Chick Young's view

By Chick Young
BBC Scotland football pundit
Last updated on .From the section Football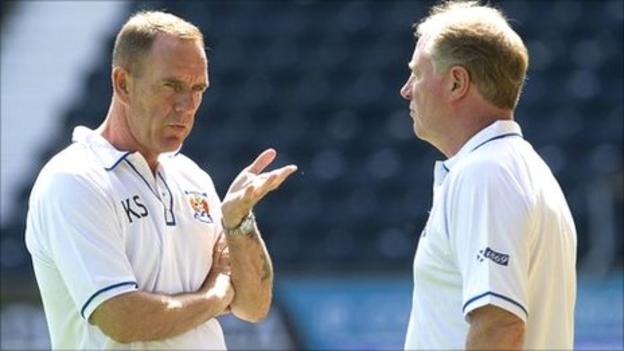 They have a lovely way about them, those folk from Northern Ireland.
My mate Andy worked over there for a few years. It took him a little while to get used to the accent.
He was out for a few welcoming drinks with his new colleagues in downtown Belfast when, with typical Norn Irn hospitality, they asked what he was having.
"A Norwegian, Andy?"
"A what?"
"A Norwegian. Just what you've been drinking up to now."
"A Norwegian? What's that?"
"Another wee gin…" it suddenly dawned on him.
Ah, the craic.
That'll be why the partnership of Kenny Shiels and Jimmy Nicholl is working at Rugby Park. They're sweet talking them into it.
Ten minutes into the season and I think I'll have to review my forecast - of which in any case I never really convinced myself - that Kilmarnock are favourites for the drop.
Their dismantling of Hibs at the weekend was one thing - the Easter Road side looked as if they couldn't keep a beach ball out a close - but it was more the method of the slicing.
I loved the cut of Killie's jib last season.
Mixu Paatelainen was rightly the manager of the year and for all the admirable skills of eventual winner Emilio Izaguirre as player of the year, I felt I had to vote for the swagger of Alexei Eremenko and still feel he was robbed.
Kilmarnock were glorious to watch. Touch and move, play the game in triangles, keep the high balls low. This game isn't basketball, you know. Kilmarnock fairly shortened the winter.
But their best players were spirited into the night - or the close season if you like - and you wondered, all right I wondered, if they could re-sign their likes.
But it seems - and it's very early days - that they might have managed it.
Paul Heffernan has bounced about clubs in the lower leagues in England but should have had a hat-trick against Hibs. Only a phrase involving the words "barn door" and "banjo" adequately describes the miss that would have given him his third.
And James Dayton looked electric.
But I sense it comes from a management team who have developed a wee bit of chemistry, both Ulstermen but not - curiously - with a friendship rooted in the past.
Nicholl's loving it as number two, the role he played for so long alongside Jimmy Calderwood. His gaffer, Shiels, gloriously under-stated, nevertheless makes his point that this is a game which is meant to be entertainment.
Good man, yourself, as they say across the water.
The season is in its infancy, but if it's a 10,000-mile journey you still have to take the first step and Kilmarnock have put a bounce in theirs.
The cynics will say that the passing teams will get their comeuppance when the pitches cut up and the grass retreats, too scared of the winter frost and too dark to stick its head above the ground, when the playing fields of Scotland look fit only for the planting of tatties.
But horticulture has moved on a little. Fir Park excepted, there haven't been too many paddy fields about in recent seasons.
And in any case, isn't it time to praise the positive and not do the Scottish thing? You know, "aye, it's all right the now, but just you wait and see..."
But meanwhile, what of Hibs?
I'd start with a Norwegian… No actually, make it another large one.