Swansea's Leon Britton targets victory against Wigan
Last updated on .From the section Football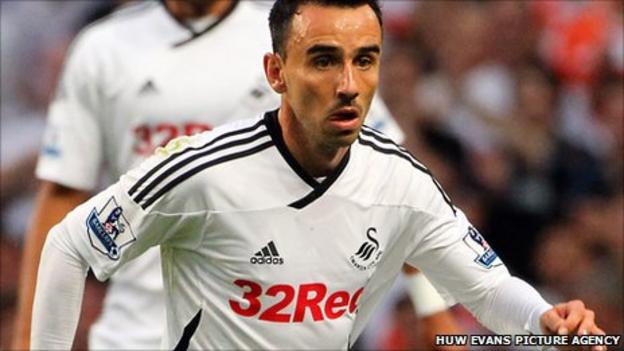 Midfielder Leon Britton has said Swansea City must beat teams such as Wigan Athletic if the Welsh side want to survive in the Premier League.
Swansea's first ever Premier League game ended in a heavy 4-0 defeat at FA Cup winners Manchester City on Monday.
But Britton believes the Swans can quickly bounce back on Saturday by beating Wigan, a team managed by former boss Roberto Martinez.
"There's an opportunity for us," Britton told BBC Sport Wales.
"We want to try and win every game, whether it's Man City away or Wigan at home.
"As the season goes on and if we're near the bottom with these teams then you need to beat them, you don't want them pulling away from you. That's important.
"The first home game for us in the Premier League with Roberto coming adds a little bit extra to the game.
"Obviously Wigan last season just scraped through in the end in the last game of the season.
"When you look at the top three or four teams it's obviously very difficult playing against them, the rest I think it's pretty even."
Despite a goalless first half in their opening Premier League match, Swansea finally succumbed to sustained Manchester City pressure in the second half.
Two goals from substitute Sergio Aguero and one apiece from Edin Dzeko and David Silva secured an impressive win for Roberto Mancini's side.
And defeat at the Etihad Stadium was a taste to Britton and his team-mates of what they can expect in the Premier League this season.
"Obviously it's disappointing to come away with a 4-0 defeat," said Britton. "But there [are] positives to take.
"A lot of the lads have made their Premiership debut and showed they can compete at this level.
"In the first half we passed the ball pretty well and coming to a ground like this maybe some people thought we wouldn't do it.
"But we need to look at the chances they got and the goals they scored because in this league if you give people chances, they'll punish you.
"Chances are probably going to be few and far between in the Premiership.
"The main difference is when teams get the chances they put them away. There's not going to be as many in the games.
"And when we do make our chances and get them we've got to make sure we put them away because you don't know when the next one's going to come along."
Despite defeat in their opening match, Britton said he enjoyed his first Premier League match and is relishing the season ahead.
"It's fantastic being here," added Britton. "As a player this is where you want to be. It's a great experience and one we're going to enjoy throughout the season."