Off The Bawl 15 August 2011
Last updated on .From the section Football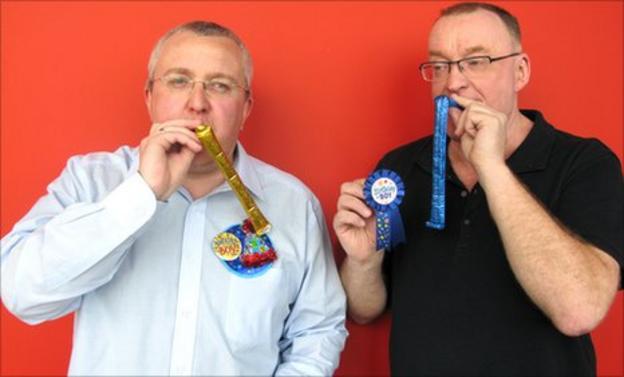 Greeeeeetings!
Strong drink is probably recommended these days for anyone even thinking about going to Pittodrie, but who'd have guessed that Archie Macpherson - the doyen of Scottish commentators - was once a wee bit worse for wear while working at an Aberdeen game?
Saturday's star guest admitted he'd had too many sherries at the hotel bar the night before a match and - let this be a warning, kids - he paid a heavy price.
Yep, can you imagine what TWO Doug Rougvies must have looked like?!
At the risk of a theme developing, Chris from Troon emailed to ask: "Does Archie remember coming back from a Scotland match and taking a flaky at Zurich Airport when he got a knock-back at the duty free shop?"
Of course he doesn't remember, Chris. He was probably blootered...
Archie was in fine form on Saturday's show and he put his famous voice to good use by reciting two limericks sent in by listeners that were both about the Fife village where Archie enjoys a game of golf - Crail.
A fat wifie's knickers from CrailBlew off her rope in a gale.Her husband said: "Hen,You'll no' see them again."But she did - on a yacht as a sail.
(Richard Wilson, Marie and the Boys)
On the breasts of a barmaid from CrailWere inscribed all the prices of ale.And on her behind,For the sake of the blind.Was the same, but only in Braille.
(Andy)
Archie even helped one listener win a wager simply by saying "Mon The Biffy" over the airwaves.
That was for Gavin from Falkirk and was inspired, of course, by the fact that our other studio guest was Ben Johnston, the drummer and vocalist from Scottish pop sensations Biffy Clyro.
In a world exclusive (eat yer heart out, Chick!) diehard Kilmarnock fan Ben revealed the real reason Biffy Clyro got their unusual name.
Biffy was the name of the real-life character the original James Bond novel was based on... and Clyro is the Welsh holiday village where Ben and his brother spent many of their childhood holidays.
Ben's presence provoked a batch of classic drummer jokes...
What do you call a drummer with no girlfriend? Homeless. (John Crayton, Glasgow)
What do you call a woman on a drummer's arm? A tattoo. (Davie in Largs)
What's got three legs and a penis on the top? A drum stool. (Anon)
Anyway, in the excellent company of Archie and Ben, we discussed the links between pop music and Scottish football, we wondered why 100,000 fans have deserted the SPL for each of the past six seasons and we cocked a leg at other radio shows with another fabulous Team of the Week - The Dogs XI.
Here's a selection of the most petty and ill-informed texts and emails on radio...
THE LOST FANS
Barry Geddis said: "The expense of a day at the football is now way beyond most fans today. A ticket, fuel and parking costs £40 for myself at a St Johnstone game. Then we get inconvenient kick-off times and OTT stewards to help make the decision to stay at home an easy one."
Tam from Carfin said: "Surely we should learn a lesson from the Legends game at Parkhead? Sensible pricing and genuine entertainment meant a 55,000 midweek crowd. If the clubs don't get their collective finger out, the 100,000 fans we're losing every year will only accelerate."
Archie said: "I support Pollok FC in the world of junior fitba'. It's £5 entry for great entertainment and exactly the atmosphere your 'lost' fans are missing. They should try it."
Rab in Leven said: "Football is simply too dear now. I used to watch the top flight but I was chased away by the prices. I'm now out of work, so what about the clubs introducing an unemployment gate for, say, a fiver? This would increase crowds and bring much needed cash into the game."
Davy in Laurencekirk said: "Unlike many listeners, I'm against standing areas being re-introduced. I hated getting peed on from the bloke (or lassie) standing behind." (A lassie??!!)
Neil the Arab said: "I just can't get my sons interested. They say they'll never see a club outwith the Old Firm winning the SPL title in their lifetime and, sadly, I find it impossible to disagree."
POP AND FOOTBALL
Tomas said: "Stuart Braithwaite from the band Mogwai is an avid Celtic supporter. They also wrote a song called Hugh Dallas and did the soundtrack for the Zinedine Zidane movie."
Fergie in Aberdeen said: "Believe it or not, Neneh Cherry is a well-known Aberdeen fan."
Bob in Edinburgh said: "What about the obvious connection between Rangers and Dire Straits?"
Jim from Windygates said: "The bass player from Coldplay is originally from Kirkcaldy and he's a Raith Rovers fan."
Anonymous said: "Big Country are the Pars' band. The late great Stuart Adamson was a regular on the East End Park terraces. And what about Adam Ant and Rangers? Like the sheriff officers, didn't he sing Stand And Deliver?"
Ged and Elizabeth Ellis in Madrid said: "John Peel wore a Hibs top to present a Christmas special on the BBC in 2003. It had the name Peel and the No.1 on the back."
Michaels Kynaston said: "I was at a Delgados' gig a few years ago and the guitarist was giving us updates on the Motherwell game. He was a big fan and seemed quite annoyed to be missing the match."
James Morrow said: "In the 1980s The Specials wrote a song about Motherwell... Ghost Town."
Jason in Giffnock said: "James Allan, lead singer of Glasvegas, played for Dumbarton. And he was honking."
Dan from Ayr said: "Coolio wears an Ayr Utd top on stage."
Stuart McKenzie said: "A well-known St Mirren fan (for a while at least) was Captain Sensible. In the late 70s and early 80s he was given a Saints top which he proudly wore on several occasions, including an appearance on Top Of The Pops."
TEAM OF THE WEEK
The Dogs XI (aka Bristol Rovers)
Stadium: Kennelworth Road
Fans' anthem: Hello Hello, We Are The Corgi Boys
Live match commentaries on BBC Radio Scotland's Sportshound
Manager: Pup Guardiola
1/ Alan Ruff2/ Spaniel Prodan3/ Bertie Auld Shep4/ Tommy Ringworm (c)5/ Pascali St.Bruno6/ Ray "Butch" Wilkins7/ Kenny Dug Leash8/ Jimmy Bone9/ Stan Collie-more10/ Harald Brattbark11/ Greyfriars Bobby Lennox
THE OFF THE BALL MYSTERY
Last week, on the back of wine and vodka bottles being left as a shrine outside Amy Winehouse's front door, we asked you to tell us what items would be left as a shrine to the great and good of Scottish football.
Matthew Cotter in Glasgow said: "Irn Bru bottles for Alex McLeish to pay tribute to a great Scottish ginger."
Ally from Alloa said: "What about a pair of mittens for Barry Ferguson and Allan McGregor?"
April Gibson in Stonehaven said: "A copy of Knave magazine for Frank McAvennie."
And Andy from Kirkcaldy said: "When Sir Alex Ferguson passes away, I think it would be quite appropriate if the fans left a hairdryer at his front door."
This week's mystery?
Well, after a charitable donation from the Hearts owner, a lifeboat on Loch Ness is to be named in honour of Vladimir Romanov. But what should it be called?
The Jolly Jambo? The Sunken Manager? The P45?
If you can solve this week's OTB mystery, email your answers to offtheball@bbc.co.uk or text 80295.
AND FINALLY...
Let's hear it for the Motherwell fan who contacted this week's Off The Ball Sunday Supplement to tell us that, after getting engaged at the Scottish Cup Final, he's now going to get hitched at the end of the season when the mighty Well win the SPL!
Meanwhile, Louise from Forfar emailed Sunday's show to say: "We'll only know that Motherwell have really made the big time in Scottish football when Gordon Ramsay claims to have been a ball-boy or programme seller or member of the Under-12s team at Fir Park..."
PS. The song that played us out? Well, in the week the Sheriff Officers came calling at Ibrox, we finished with Craig Whyte's cover version of the old Dave Edmonds' classic I Hear You Knocking (But You Can't Come In)...
To join in the fun on this Saturday's show, call 0500 929500, text 80295 or email offtheball@bbc.co.uk