Ransom demand for John Mikel Obi's father's release
Last updated on .From the section Football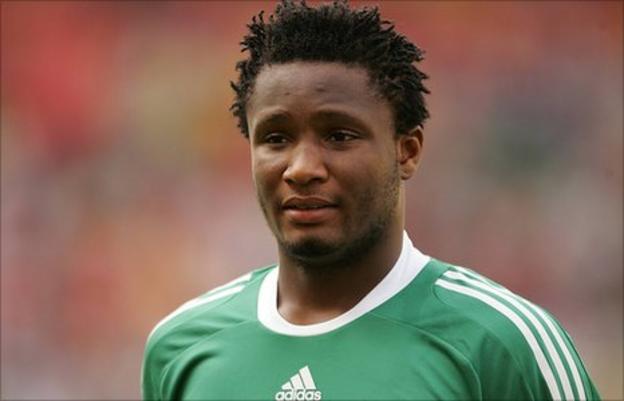 Abductors have made a "sizeable" ransom demand for the release of Chelsea midfielder John Mikel Obi's father, the player's agents have confirmed.
But SEM Group denied a statement from Nigerian police which claimed the figure was 20m naira (approx £80,000).
"A sizeable demand has been made but, for security reasons, we are unable to release details of the amount," the company said in a statement.
Michael Obi, who runs a transport firm in Jos, has not been seen since Friday.
"We confirm that Michael Obi has been abducted and that the kidnappers have been in touch with the family and representatives of the family and that discussions for Michael's safe release have begun," the statement said.
"Mikel would like to thank his family, friends, Chelsea FC and his agents for their support and, at this time, it is Mikel's intention to play for Chelsea this weekend, encouraged by his family to do so."
Speaking on Radio 5 Live on Friday, BBC African football writer Oluwashina Okeleji said: "The family are increasingly disappointed in different versions of the story making the headlines. There have been twists and turns and counter denials in the media about the real situation of the case.
"They insisted what is evident however is that Michael Obi is still missing. They have not heard from him, and they have not heard from his abductors directly since Wednesday.
"I exchanged a text with the Chelsea midfielder. His response to my best wishes and concerns was very short and abrupt.
"He replied, 'don't believe everything you read, let's just pray for the safe return of my dad.'"
On Tuesday Obi's family were called twice by the abductors who told them Michael had been moved to Lagos.
They contacted the family again on Wednesday to make the ransom demand, but police have not revealed if further negotiations are taking place.
In the second call on Tuesday the abductors gave the family the location of the car which Michael Obi was driving when he went missing.
The vehicle was then found in Jos, but the Obi family declined to say where exactly it was recovered.
The family held a prayer vigil at the family compound on Monday.
Obi was told of his father's abduction before Sunday's goalless Premier League draw between Chelsea and Stoke City, but decided to play.
"I've always tried to help the country. This is the time for the country to help me," Mikel said on Monday.
"Whoever knows where my dad is should please contact me."
It is not the first time a relative of a Premier League player has been abducted in Nigeria. Former Everton defender Joseph Yobo's brother was kidnapped in 2008.