Arsenal boss Arsene Wenger charged over Udinese game
Last updated on .From the section Football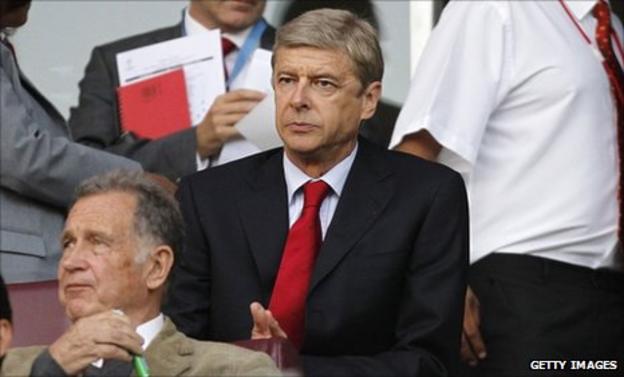 Arsene Wenger will face disciplinary action for communicating with Arsenal's bench while serving a touchline ban, Uefa has confirmed.
The incident took place in Arsenal's Champions League play-off with Udinese.
The case will be discussed on Monday and any penalty is likely to take the form of a fine rather than another ban.
Arsenal say Wenger thought he could pass messages to assistant Pat Rice via a coach, but he was told at half-time this was not allowed.
Uefa said Wenger has been charged with "not abiding by the decisions of the Uefa control and disciplinary body".
European football's governing body added: "According to the Uefa disciplinary regulations, a manager may not communicate with his team during the match for which he is suspended and may follow the game from the stands only.
"Wenger was serving the suspension which the Uefa control and disciplinary body handed down following the English team's round of 16 match at FC Barcelona in the same competition last season."
After the game on Tuesday, Wenger insisted: "It was very difficult because you don't know really what the rules are.
"They told us first that, through my assistant, he can communicate. And after half-time, it was not like that."
Wenger cut an agitated figure throughout the second half and did not attend the post-match media conference, insisting his one-match suspension also prevented him from conducting media duties.
Arsenal officials were puzzled by Uefa's stance, having left the pre-match briefing sure that Wenger could send messages to the coaching staff via a third party, in this instance first-team coach Boro Primorac.