Facebook to show Ascot v Wembley FA Cup opener
Last updated on .From the section Football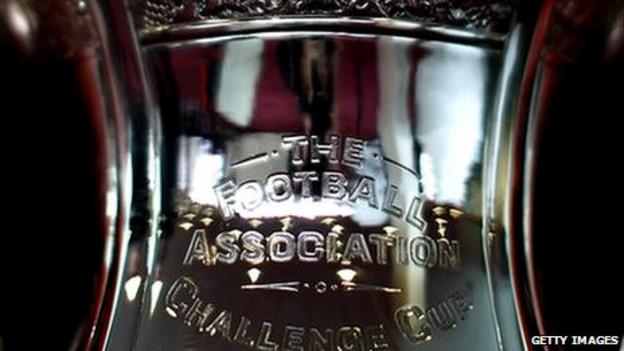 Ascot United and Wembley FC will kick off this season's FA Cup, with the match shown live on Facebook.
The non-league sides meet in an extra preliminary-round clash on Friday night, with a potential audience of 700 million on the social networking site.
A 90-minute stream will be funded by the FA Cup's new sponsors Budweiser.
Although it is not expected to reach the majority of its potential viewers, it is the first broadcast of its kind anywhere in sport.
Budweiser marketing director Ian Newell said: "Budweiser is committed to bringing the world's most prestigious knockout competition closer to the fans.
"What better way to demonstrate this than by broadcasting the very first kick to a global audience via Facebook?
"This is the first time an FA Cup tournament fixture has been broadcast live on the social network, which is great news for football fans and clubs alike."
Ascot, of the Hellenic League, take on Combined Counties side Wembley at their Racecourse Ground in one of 204 extra preliminary-round fixtures.
Wembley player-manager Ian Bates told the FA website: "We don't pay a penny to our players but we've got a good side. If we play our game, we have a great chance.
"The FA Cup is an extremely difficult competition. You're playing teams in leagues above who have more resources and it's hard to progress further."
Wembley chairman Brian Gumm added: "The revenue isn't that important. It's all about being in the competition and hopefully doing well."
The winner will have to get through another five rounds to make it into the first round proper.
And Wembley FC would have to win a total of 12 cup ties to make it to a semi-final at the national stadium, less than two miles away from their home ground.