Celtic likely to lose talented Islam Feruz - Neil Lennon
Last updated on .From the section Football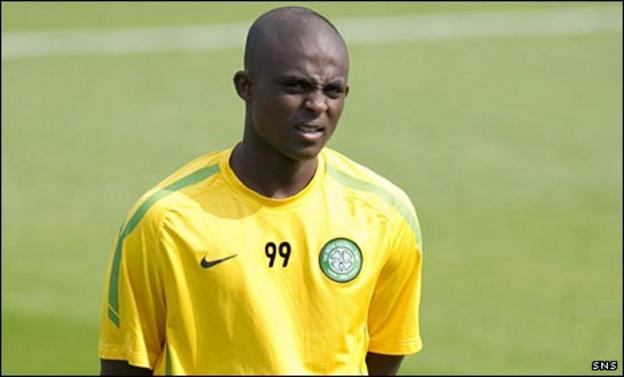 Neil Lennon admits that Celtic will find it difficult to retain Islam Feruz, the talented 15-year-old forward strongly linked with Chelsea.
The Celtic boss had hoped that Feruz, who arrived from Somalia in 2001, would sign a professional contract when he turned 16.
"I am not aware of that," said Lennon when asked if he had joined Chelsea.
"I have heard all this speculation. I do know that it is going to be very difficult for us to hold on to him."
Feruz, who has also been linked with Newcastle United, stepped into the limelight two years ago in a match in memory of Tommy Burns, the former Celtic manager who had helped the player's family when they faced deportation back to Somalia.
He then became the first player to be selected for Scotland under a new Fifa ruling allowing a British passport holder educated for at least five years in one of the home nations to play for that country.
But the Scotland Under-17 international now could leave his adopted homeland for English football.
"As it is, I have not seen Islam since the start of the season," admitted Lennon.
"We have done everything we can to keep the player and done more than enough to make him feel at home here.
"He does have other people in the background who are advising him.
"My take on it is that they are advising him wrongly, but we seem to be powerless in that situation."
Celtic would be due a compensation fee for developing the player from any club signing Feruz, but Lennon does not believe that a sum of around £350,000 would be fair.
"Not for a player of his potential, but again I am not aware of all the figures and what the outcome of that might be," said the Celtic manager.
"When it is done and dusted, I would be able to tell you more."
Asked if he felt Feruz was being disrespectful in wanting to leave the club, Lennon replied: "I wouldn't accuse the kid of that.
"He's only 15, turning 16. There are other people in the background who I'd rather point the finger at than the player himself."