Paulo Sergio says Hearts must learn from Spurs loss
Last updated on .From the section Football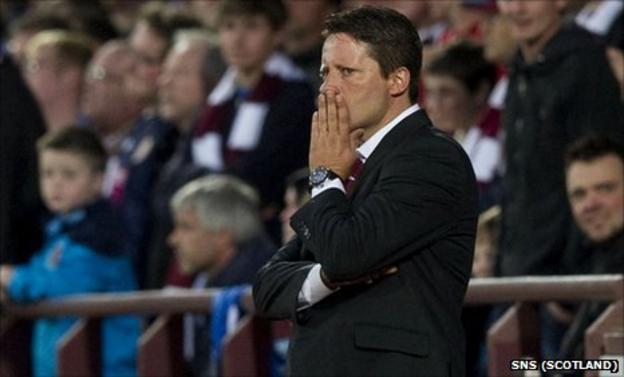 Hearts manager Paulo Sergio has criticised his players for showing too much respect as they suffered a 5-0 defeat by Spurs in the Europa league.
Rafael van der Vaart, Jermain Defoe, Jake Livermore, Gareth Bale and Aaron Lennon all netted for the Londoners in the first leg at Tynecastle.
"When you let players like Tottenham touch the ball and run into empty space, it's dangerous for you.
"We showed them too much respect. They are men like us," Sergio said.
"First half, we were on the pitch like someone who had bought a ticket, with our eyes on the ball, no press at all - it was awful.
"They played as they wanted in the first half.
"We know there's a huge difference between us and Tottenham, but I know we should do better than we did in the first half."
Hearts now face Kilmarnock in the Scottish Premier League on Sunday before next Thursday's second leg and Sergio warned his players that those who don't learn from the heavy defeat will find themselves sidelined.
"In football as in life, you should learn from the mistakes you make," the Portugese added.
"It's another opportunity to show that you learn, that you are well prepared for the future.
"People that don't learn are maybe not going to play too many times with me."
Tottenham manager Harry Redknapp was thrilled by his side's display on what was their first competitive outing of the season.
Having thrashed the side that finished third in last year's SPL, Redknapp was hesitant to criticise the standard Scottish football, but the gap in class was enormous.
"I don't want to be disrespectful to Scottish football, but there is obviously a big gulf," he said. "It's plain for anybody to see.
"It is a different level now, for sure - it's pretty obvious. Resources are completely different.
"I've seen some good games, but there's a difference - you look at the money the players earn in the Premier League and the money that's paid in transfers, there's got to be a gulf.
"Listen, we had a good day. We could come here again and it could be different.
"First half we played ever so well and it was difficult for them."