Lack of transfer funds frustrate Everton chief Kenwright
Last updated on .From the section Football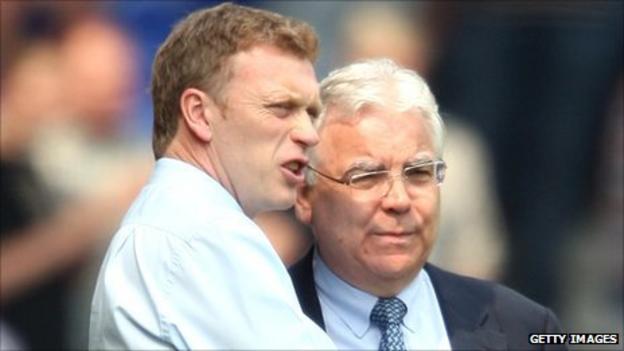 Everton's transfer plans are being hampered by their inability to borrow from the bank, chairman Bill Kenwright has said.
The Toffees have not signed any players this summer, leading to much frustration among their supporters.
"We've come to a stage with our bank where we just can't borrow any more," Kenwright told Sky Sports News.
"The banks are tightening in. We just can't borrow any more money, to protect the football club and the fans."
Kenwright added: "The world is in a recession and I don't know any business that isn't suffering at the moment and I include football in that, other than the financial elite.
"At the AGMs, EGMs, the shareholders' meeting I've said year after year, what we do is we beg and borrow from the bank. That's what we've been doing."
This summer, Everton rejected an offer of £10m from Arsenal for defender Phil Jagielka and this week turned down a £3m-bid from Leicester for striker Jermaine Beckford.
The only transfer activity the club have undertaken during this transfer window has been to re-sign teenage defender Eric Dier on a season-long loan from Sporting Lisbon.
On Thursday, it was reported that they had made a bid to sign Manchester City defender Nedum Onuoha.
Kenwright, 65, also said the club's inability to sell players has also contributed to the lack of players coming in to the club this summer.
"We knew we were going to get to a point where things were going to get very, very tight. We knew we had to trade," he admitted.
"There has not been a lot of trading in football itself this summer. We've not been able to trade yet and that's the reason that we've not bought in a new player."
Toffees midfielder Mikel Arteta has said he understands fans' concern about the lack of signings and also stressed they must keep their top players.
"We know the situation at the moment: we cannot spend money like other clubs," he said. "That is sensible, even if it is not very popular.
"But at least we have been able to keep our best players. If we cannot sign new players we must keep the ones we have."
Kenwright has often stated his desire to bring new investment into Everton to assist their improvement on the field, stating that he does not possess the personal wealth to do so himself.
In September 2008, he claimed the club needed a billionaire owner if they are to remain competitive in the Premier League.