Tottenham's Kevin Bond expects Luka Modric to stay
Last updated on .From the section Football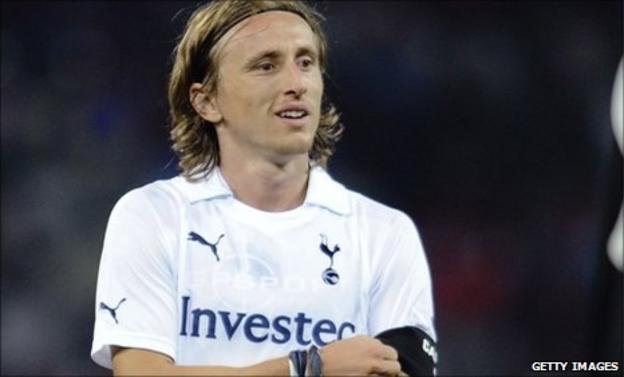 Tottenham assistant manager Kevin Bond expects midfielder Luka Modric to stay at White Hart Lane.
Spurs chairman Daniel Levy has repeatedly insisted the 25-year-old is not for sale at any price, amid reports of a new £30m bid from the Blues.
Bond told BBC Radio 5 live: "He [Levy] has made it clear that Modric will stay and I think that's what will happen."
"The chairman's made it quite clear that Luka won't be leaving the football club, and probably I don't see that changing at all."
Modric was left out of the side that demolished Hearts 5-0 in the Europa League play-off on Thursday night.
Former Bournemouth boss Bond said this was because of a thigh injury, adding: "There's a possibility he might be fit for Manchester United on Monday."
Tottenham boss Harry Redknapp has in the past admitted that it could be in the club's interest to let the 25-year-old leave and spend the transfer fee on reinforcing their squad.
Meanwhile, Chelsea manager Andre Villas-Boas has said owner Roman Abramovich will make the final decision on whether the club make another bid for Modric before the transfer window closes.
The Portuguese coach is already exploring alternatives to Modric, hinting Chelsea would not be held to ransom over the Croatia star and that billionaire owner Abramovich would veto any move if he believed that to be the case.
Villas-Boas said: "It doesn't depend on me. It's not my money.
"It depends on a lot of things. It depends on the club's decision, if they are willing to go forward or not, up to which value, and to decide whether they want to keep the interest in the player.
"Luka, on this particular occasion, is a young player but there would be for sure a sensible price to pay."
Villas-Boas last week revealed he was attempting to sign two midfielders before the August 31 deadline.
As well as Modric, he has been linked with Valencia's Juan Mata, Liverpool's Raul Meireles, Porto's Joao Moutinho and the latter's wing-back team-mate Alvaro Pereira.