Arsenal must reinvest Fabregas transfer fee - Lawrenson

By Mark Lawrenson
BBC Sport football expert
Last updated on .From the section Football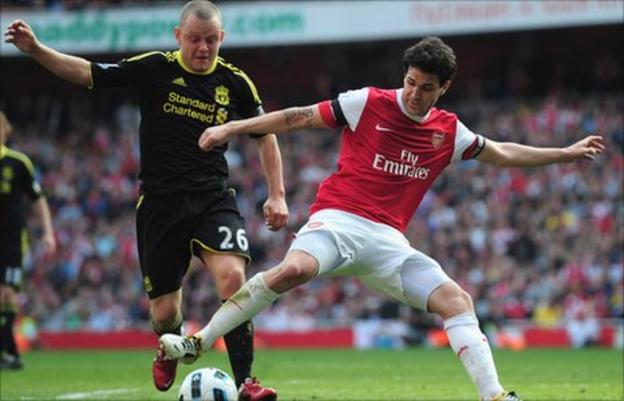 Arsenal and Liverpool meet at The Emirates on Saturday in a game that will be an intriguing measure of where the two clubs currently stand.
If you plotted a graph of Liverpool's progress throughout the summer so far then you would conclude that it is on an upward curve, whereas others might suggest that Arsenal's is heading in the opposite direction.
Liverpool's new owners, the Fenway Sports Group, have spent more than £100m since Kenny Dalglish returned to Anfield in January, while Arsene Wenger seems reluctant to spend big and address the problems he appeared to have identified at the end of last season.
The result is a renewed mood of optimism at Liverpool, while Arsenal supporters are understandably anxious as they see players of the calibre of Cesc Fabregas and seemingly Samir Nasri leave for Barcelona and Manchester City respectively.
I simply do not understand why Wenger, who has proved what a wonderful and knowledgeable manager he is, has not done anything about strengthening an obvious weakness in central defence with less than a fortnight to go before the transfer window closes.
If he is worried about spending big on players of the calibre of Bolton's Gary Cahill or Everton defender Phil Jagielka, then I really cannot work out why.
If he has to pay a little over what he considers to be the going rate, then he should because he has the money from sales and they would offer such obvious instant benefits to the team.
If I was Wenger, I would also have regarded goalkeeper Shay Given as the perfect signing as well at only £3.5m but he has gone to Aston Villa instead. Wojciech Szczesny is a real talent but he is young so will make mistakes in games.
I believe a better option would have been signing someone experienced and reliable such as Given, leaving Szczesny to watch and learn from him.
There is a real feeling of uncertainty around Arsenal and I believe Wenger is at the biggest crossroads of his time at the club, although I do not believe for one minute he is under pressure in terms of his job security.
I actually don't think things have ever been the same for Wenger and Arsenal since former vice-chairman David Dein left the club. Dein is a good guy who was a fine negotiator and very proactive, making Wenger proactive in turn as they worked in a perfect partnership.
They were clearly very close and a bond such as that is crucial at the top of the club.
Dein seemed to be the sort of ally who could persuade Wenger to make a move in the market or perhaps have a healthy and respectful disagreement with him if he was not sure about something.
It is always good for the manager to have the right sounding board and I wonder if Wenger has that now.
I am not sure if there is any way back for Dein at Arsenal as I do not know the workings of the boardroom at the club but I do believe the record shows he worked brilliantly with Wenger.
It has left Arsenal in danger of falling out of the top four in the Premier League and therefore the Champions League, which has been their home for so long. I believe they are scrapping it out with Liverpool and Spurs for fourth spot this season.
To lose two big players in the shape of Fabregas and Nasri is very unhealthy and does not give out great signals.
Fabregas was probably the best player of his type in the Premier League, buzzing around and playing those killer passes.
Maybe Manchester City's David Silva is on a par but Fabregas fitted perfectly with Arsenal's style, while Nasri is also a top performer and will be missed.
Despite this, I still believe there is time for Wenger to pull this around and make Arsenal firm favourites for fourth place if he actually makes the signings he needs to in the next few days.
He has the money and should, as I have said, sacrifice his principles and over-pay a little. Every Arsenal supporter you speak to will tell you what needs curing so Wenger should just go ahead and do it.
What makes it even more puzzling is that Wenger must realise how important it is to have leaders, after inheriting players and personalities such as Tony Adams, Steve Bould, Martin Keown, Lee Dixon, Nigel Winterburn and David Seaman.
He knows how men of that character can make your side so difficult to beat, so I am very surprised he has not tried to instil that back into the current Arsenal team.
Arsenal are such a good side in midfield and going forward that they can have a good season and finish fourth if they act in time and put themselves in a position where they are once again stronger than Liverpool and Spurs.
This is what makes the game with Liverpool so interesting. Dalglish will feel very optimistic about getting a positive result against a depleted Arsenal side, whose vulnerable defence will be tested by the brilliance of Luis Suarez and the height and power of Andy Carroll.
These are all the factors that will have observers watching events at The Emirates so closely and with such interest.
Mark Lawrenson was talking to BBC Sport's Phil McNulty.