James Constable a Swindon Town fan - Paolo di Canio
Last updated on .From the section Football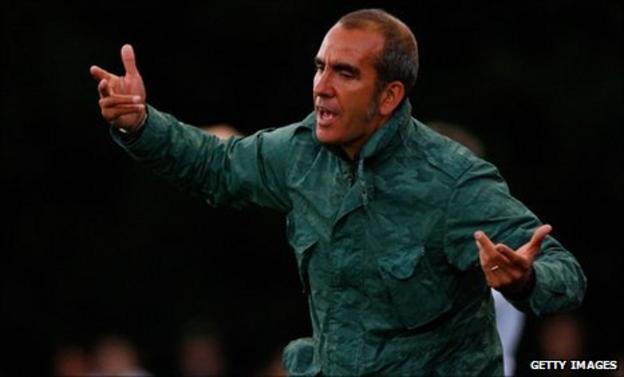 Swindon boss Paolo di Canio has started mind games before Sunday's derby with Oxford by claiming United striker James Constable is a Robins fan.
And Di Canio told BBC Wiltshire: "He's a big Swindon fan through and through - the Oxford fans know it.
"It would be good to bring him here but I don't think Oxford will let him go, especially with the rivalry."
Constable, 26, has been Oxford's top scorer for the past three seasons and is wanted by Luton as well as Swindon.
Robins manager Di Canio said: "He's an important player for them obviously. In the last few years he is the one who has scored the goals.
"He has pace, he is tall, he can score with both feet and his physical presence is massive."
The last derby match between the two was an FA Cup clash in December 2002, which Oxford won 1-0.
Their most recent league meeting was a 2-0 win for Swindon in March 2001, and the Robins had been in a higher division since then until their relegation this summer, with Oxford having meanwhile endured a four-year spell in non-league football before their return last season.
U's boss Chris Wilder told BBC Oxford: "I was first asked about it after the Barnet game [the day Swindon were relegated] last year and it's come round. It's going to be a cracking atmosphere.
"Hopefully it goes well and we go there trying to play football. We're not going to change the way we play - we like to pass and play, and we'll do that.
"It's a big game for us. We have to make sure we're passionate about the game but we have to be controlled.
"We'll do that because we've got experienced players who have played in big games. But there's no doubt about it, it's a biggie on Sunday."
And Di Canio is looking forward to his first Oxford game as Robins manager.
He said: "It is a crucial game. When you are at the beginning of the season and you play a derby like this, we need to win for ourselves. It can give us confidence.
"I don't need to encourage my players. Only a stupid person would not understand how lucky they are to face their rivals in front of the fans.
"My players are very lucky as they have amazing fans behind them, and we're playing at the County Ground so it's sure to be our fortress. For us it will be our cup final."
The game will be a new occasion for all 22 men who start on Sunday, but U's midfielder Paul McLaren believes the players understand the importance of the game.
"We know what it means to the fans. I can't wait for it. These are the games you look forward to - full houses, the crowd on your back and cheering for you," he said.
"The lads are really up for it, especially after the win over Shrewsbury on Tuesday - we can take that into the game."
And Wilder concluded: "Someone is trying to stick it about that Constable is a Swindon fan. I don't see that. My Tottenham-supporting number nine will be all out to get the goals for Oxford on Sunday."