Everton 'not a selling club', says manager David Moyes
Last updated on .From the section Football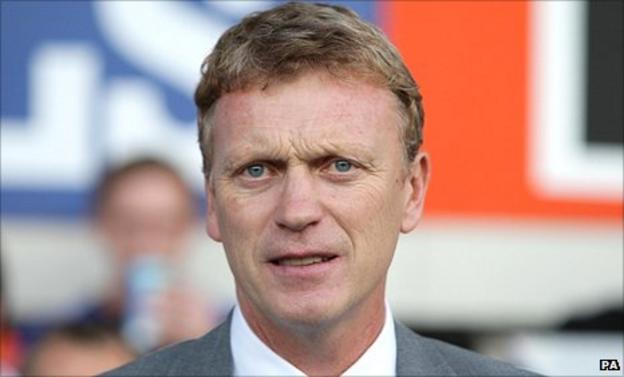 Everton manager David Moyes says he will not allow the Toffees to become a selling club despite the financial pressure on the Goodison Park side.
Everton, who have debts of about £45m, have not signed any players on permanent deals this summer.
"As far as I'm concerned, none of our players go unless David Moyes says so," said Moyes.
However the Scot believes his team will struggle to post a sixth successive top-10 league finish this season.
Chairman Bill Kenwright admitted on Thursday that the club could no longer borrow money to fund purchases.
The only arrival this summer has been Eric Dier on loan from Sporting Lisbon and Moyes will have to sell players before he can add new faces to his squad.
Everton have so far chosen not to cash in on bids of £2m for striker Jermain Beckford from Leicester and £10m from Arsenal for Phil Jagielka.
However Moyes admits that, as in previous seasons, players could depart to ensure the future stability of the club.
"We have always had to trade and I don't think that is any different from before," he said.
"A few years ago we had to trade Andy Johnson and James McFadden and Joleon Lescott to be able to bring players in.
"I'm not in the business of coming into football management to sell my best players. I won't do that.
"But if I get an offer which is right I will, and I'll never let Everton get into trouble."
Moyes conceded that his lack of activity in the transfer market could see Everton slide out of contention for European football.
"My hope is to do as well as we can," he added.
"I can see the likes of West Brom, Stoke, Fulham and Sunderland have all tried to improve and the reason they have done that is to finish where Everton can.
"We have tended to be somewhere fifth, sixth, seventh over the last five years.
"We have to aim to do that if we can but I think it will be tougher for us this season."