Old Firm bosses defend Scottish football
Last updated on .From the section Football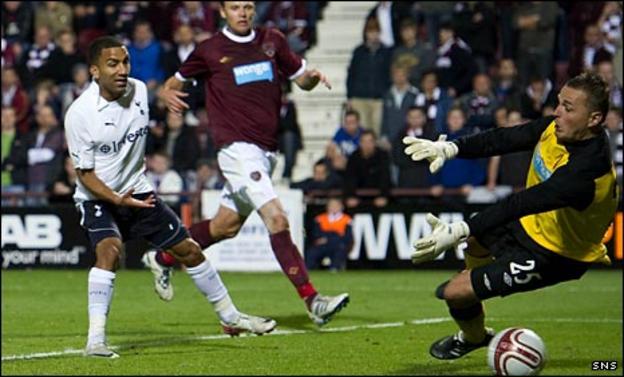 Neil Lennon and Ally McCoist have defended Scottish football after disappointing Europa League results.
Hearts were hammered 5-0 by Tottenham, while Rangers lost 2-1 to Maribor and Celtic drew 0-0 at home to Sion.
Celtic manager Neil Lennon believes the resulting criticism has been "a total over-reaction".
Rangers counterpart McCoist stressed: "Hearts were playing one of the top teams in Europe. They were playing a team that destroyed Inter Milan."
Both Old Firm managers believe they can go on to win their own second legs and progress to the group stage.
"I can't speak for Neil, but we firmly believe we can get through," said Rangers manager McCoist.
"I always stick up for our league. It's never been and probably never will be the most technically gifted league in the world, but it's full of honest people that do their best.
"I would not want to criticise Hearts as I know how difficult it is to play a top team like that and one that is capable of doing that to a few top English teams."
Lennon thought the result at Tynecastle showed the difficulty Scottish clubs face when trying to compete with their wealthier English counterparts but believes his own side can progress against the Swiss.
"We didn't play as well as we can, but we dominated the majority of the game," he said.
"Sion came to defend and we did not feel under pressure at any stage of the game.
"It is not all doom and gloom from our point of view.
"Rangers have got an away goal, which could prove priceless in the tie - and, with home advantage, I would say they would still be favourites to go through.
"We know we have to improve vastly on our away form, but we know that, if we score, it puts us in a really strong position and this team is capable of scoring.
"Spurs are an excellent side. They spend a lot of money, they've got a top manager and they've beaten AC Milan and knocked out Inter Milan last year to make the quarter-finals of the Champions League.
"For them to go and win at Tynecastle the way they did was not a huge surprise - maybe the scoreline might have been - but I expected Spurs to win the game."
Motherwell manager Stuart McCall, who played for Rangers as well as for Everton in England's top flight, thinks the gap is only going to get bigger.
"It probably is, to be honest - unless we can start producing better players," he said.
"But it's all finance. They all end up down south anyway. There is a gulf and it's all down to finances."
Dunfermline Athletic manager Jim McIntyre believes it was unrealistic to expect Hearts to have beaten Spurs.
"I am sure the punters will not be pleased at the scoreline, but for me it is a completely different playing-field altogether," he said.
"These players are getting paid absolute fortunes.
"There are far too many pessimistic people in Scotland. Rangers have scored an important goal and I'm sure they'll take care of that when they are back at Ibrox.
"Celtic have not conceded and I think it is becoming more important in Europe to score an away goal."
Dundee United manager and Scotland assistant Peter Houston was similarly optimistic.
"I would expect, of the three clubs, the Old Firm to go through," he said.