La Liga strike to go ahead as talks collapse in Spain
Last updated on .From the section Football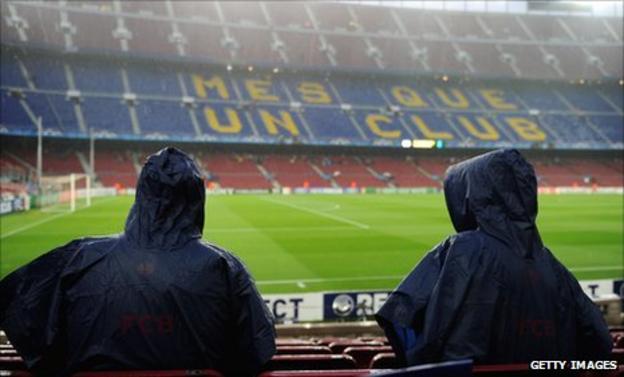 Players in Spain's top two divisions will strike on the first day of the season after Friday's negotiations with clubs on wage guarantees collapsed.
The Association of Spanish Footballers (AFE) is demanding players be allowed to break their contracts if they are not paid for three consecutive months.
"Our positions are very far apart," said Professional Football League chairman Jose Luis Astiazara.
"We are concentrating now on being able to save the second day."
The Spanish league had been scheduled to start this weekend but around 200 players in the top two divisions have not been fully paid by cash-strapped clubs, some of which are in bankruptcy protection.
Players are said to be owed up to £43m in unpaid salaries.
Both parties plan to continue talks on Saturday and Monday with next weekend's second round of games still under threat.
The season had been scheduled to start with three-time defending champions Barcelona at Malaga and Real Madrid playing Athletic Bilbao.
When the postponed games would be replayed is uncertain with no free dates for rescheduling on the Spanish calendar before May.
Clubs involved in European competitions will continue playing with Villarreal facing a Champions League qualifying game next week and Athletic Bilbao, Sevilla and Atletico Madrid all playing Europa League matches.