Motherwell aim to end Rangers hoodoo
By John Berry
Football journalist
Last updated on .From the section Football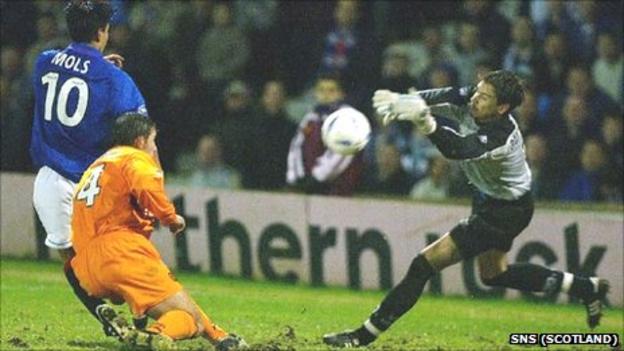 It's getting close to nine years since Motherwell last managed a league victory over Rangers - a trend that the Fir Park club will be desperate to change this Sunday when the sides meet for the first time this season.
The Steelmen have enjoyed an excellent start to their Scottish Premier League campaign.
They currently sit top of the table and have yet to concede a goal.
The man of the match in their last victory over the Ibrox club, Francois Dubourdeau, believes that this form shows that Stuart McCall's men have what it takes to finally break the hoodoo.
"This current side have improved from when I was there, so they are fully capable of taking all three points from this match," the French goalkeeper said.
"Back then we knew Rangers were a better team than us, so we expected a really tough game. We knew we had to play to our best and we went out to try to at least get a point."
It was a James McFadden winner that gave the Motherwell fans a gift to remember on Boxing Day of 2002, but it was the heroics of Dubourdeau that ensured the victory, making him a favourite of the Motherwell support.
"It was my best performance for Motherwell for sure," he confirmed.
"I played to the best of my ability and managed to get the man of the match award, but if you look at the game, everyone played out of their skin that day. [Martyn] Corrigan, McFadden and [Derek] Adams all stand out in my mind.
"It takes more than the keeper having a good game to pull off a result like that."
Although this was, indeed, Dubourdeau's best performance in a Motherwell jersey, he was quick to admit that it was also one of the most nerve-racking matches he has ever played in.
"I remember my delight after Faddy had given us the lead that day - that's when I knew he would go on to have a terrific career," he said.
"We took the lead with about 20 minutes to go and, although I was ecstatic, I quickly realised how much pressure we would be under and I feared an onslaught for the rest of the match."
Motherwell's Jamie Murphy has been on form so far this season, scoring two goals in the first four matches. This has generated attention from Barclays Premier League and Championship sides, who are keeping tabs on the former Scotland Under-21 star.
However, Dubourdeau remains adamant that it will be his old team-mates who will hold the key to taking down Rangers.
"I think the experienced players will have to control the game. Stevie Hammell was always a terrific player, as was Keith Lasley," he said.
While Motherwell are making the headlines for all the right reasons this season, Ally McCoist's Rangers side will travel to Fir Park under pressure after losing to Maribor on Thursday in the Europa League, a defeat that follows the club's exit from the lucrative Champions League.
Dubourdeau, though, is quick to point out how much of a budget difference there still is between the Old Firm and the rest of the Scottish clubs.
"I've been reading that Rangers have found themselves in a bit of financial trouble. But they still have a much more money to spend when it comes to players," he said.
"There is always going to be a huge financial gap between Celtic, Rangers and the rest of the teams. So I think that any team that can pull off a result against them deserves all the praise in the world.
"When I was at the club, we were lucky enough beat Celtic and Rangers in the same season. Terry Butcher, Well manager at the time, was always really fired up for those games.
"Terry would never back down from a challenge and I'm sure that Stuart McCall is the same."
Despite now living and coaching in the United States, Dubourdeau still looks out for his old team's results and has some advice for them as they attempt to end the winless streak against the Ibrox side.
"Sometimes you can win a game mentally," he added. "Celtic and Rangers are good, but they are certainly not unbeatable.
"My advice would be to get out there, get into their faces and get the job done by going for it. Be bold, be confident and, if you get a chance, take it."