Roberto Mancini wants Samir Nasri at Man City within 48 hours
Last updated on .From the section Football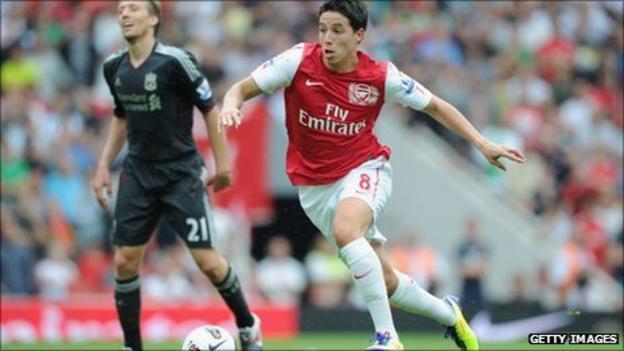 Manchester City boss Roberto Mancini said he hopes to complete the signing of Samir Nasri before Arsenal's Champions League match on Wednesday.
Arsenal boss Arsene Wenger hinted that his midfielder may line up against Udinese, which would make the player ineligible to feature for Manchester City in the group stages this season.
Mancini said on Sunday: "It's a big problem [if he plays] but I'm sure we can close in 24 hours, maybe 48.
"It's vital he's free for all games."
Earlier on Sunday, Arsenal boss Arsene Wenger told French media outlet TF1 the deal for his £23m-rated player was "far, far, far from being done".
"He is happy here," Wenger told the television station. "There is no departure of Nasri at the moment."
On Saturday, BBC Sport revealed that Nasri's move to Manchester City was still alive - despite a hold-up which led to him playing in Arsenal's 2-0 home defeat by Liverpool on Saturday.
It is believed the framework of a deal is in place between City and Arsenal, as are Nasri's personal terms, but other financial details remain to be ironed out before the switch can be finalised.
Nasri's surprise appearance came as reports in France claimed the transfer had broken down and the midfielder was set to stay at Emirates Stadium for the rest of the season.
Meanwhile, Mancini does not expect forward Carlos Tevez to leave before the end of August.
The 27-year-old Argentine's proposed switch to Corinthians fell through earlier in the summer.
"Carlos is here, I don't think the situation will change," added Mancini. "Carlos is an important player, a top player for us and at the moment we haven't received any offers for him."
Emmanuel Adebayor, meanwhile, is still on course to complete his loan move from City to Tottenham before the transfer window closes at the end of this month.
Dialogue continues between the two clubs about the structure of the deal, but it is expected to go through.