Robbie Keane scores on debut as LA Galaxy beat San Jose
Last updated on .From the section Football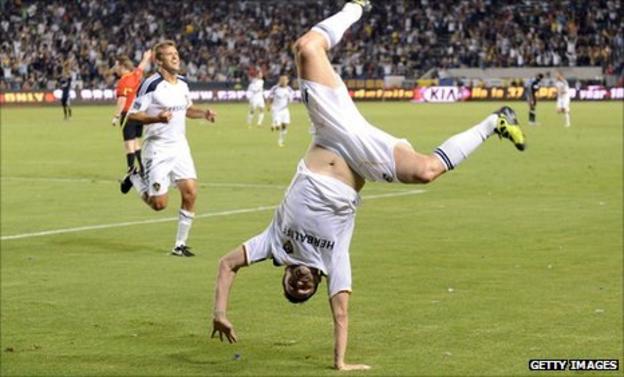 Robbie Keane scored after 21 minutes of his Major League Soccer debut as LA Galaxy beat San Jose 2-0.
Keane ran on to a David Beckham free-kick and rounded visiting goalkeeper Jon Busch before celebrating with his trademark cartwheel.
The Republic of Ireland captain said: "It couldn't have gone better for me. When you come to a new team, it's always good to get the first goal.
"When you go a few games without a goal, it starts to play on your mind."
Keane was named in the starting line-up despite training only once with his new team since moving from Tottenham Hotspur for a reported fee of £3.5m.
The 31-year-old Dubliner left the pitch in the 72nd minute to a standing ovation from the 27,000 crowd at the Home Depot Centre.
His replacement Mike Magee scored Galaxy's second goal as they strengthened their position at the top of the Western Conference of the MLS.
Beckham played the full 90 minutes and was delighted with Keane's contribution, saying: "I knew he was going to be running, and I knew where to put it.
"He's a player who knows where to run, and if you're on the same wavelength as him, you've got a real good chance.
"He's always going to make good runs, and it's up to us to find him."
Galaxy coach Bruce Arena said: "We're elated with Robbie. I think he had a great 70 minutes tonight, and he's going to have a lot more.
"I know Robbie's fitness isn't perhaps where he wants it to be, but he's a fit athlete. When he gets two or three games under his belt, he's going to be fine."
Arena could only find fault with one aspect of Keane's performance - his celebration. "When he was younger, he used to elevate a little more," he joked when describing the acrobatics of his new signing.