Neil Lennon 'raging' after Celtic loss to St Johnstone
Last updated on .From the section Football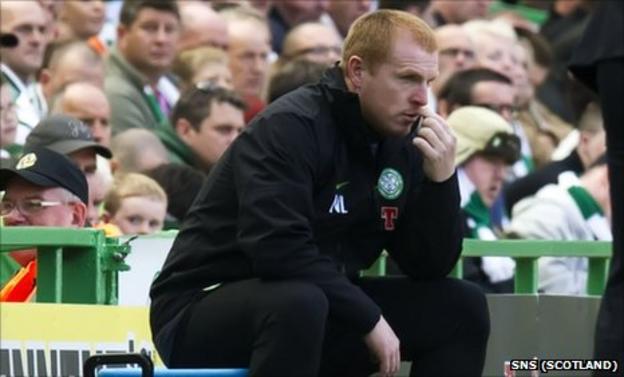 Neil Lennon says he has been left "raging" by Celtic's 1-0 loss to St Johnstone.
The Perth side enjoyed their first victory of the season thanks to a second-half goal from Dave MacKay, after Kris Commons missed a penalty.
"We were wasteful and when you're wasteful, poor in front of goal and sloppy, you will get turned over," Lennon said.
"A penalty is a gift and we keep missing them; it is not good enough."
The Celtic boss was heavily critical of his players for failing to deal with the passage of play which led to MacKay's deflected goal.
And he said the players have been left in no doubt about the improvement needed.
"We had a penalty that we can't convert. I'm sick of it," he added.
"That would have got us off to a great start. And then we were just wasteful in front of goal.
"I don't know where some people's heads are, if they want to be here or not.
"There were too many players today who wanted to go and do their own thing.
"They wanted to go and play forward and forget why they were in the team in the first place, which is to defend.
"The crowd then turned on my back four, but I'm not going to point any blame with them. It was my front six who were a real letdown today."
Celtic must now prepare for Thursday's Europa League play-off second leg against Sion in Switzerland, with the tie poised at 0-0 after the first match.
"We have to get over this one quickly. It's a disappointing result and a disappointing performance," Lennon added.
"Some of the players come knocking on my door wanting to play.
"They get the opportunity to play and they fail. And they keep failing. If you keep failing you are not going to win games.
"I'm raging, absolutely raging and I've told the players that.
"We thought we had a strong enough team out there, but we couldn't put the ball in the net and that is the most important thing to do.
"In the final third again we were awful. It was immature. That is one way to describe it
"Paddy McCourt gets in and he has the whole goal to aim at and he hits the post and it bounces out to James Forrest and he panics and hits the defender.
"So there is a bit of that in our play at the minute."