Coach's future unclear as Libyan fighting escalates
Last updated on .From the section Football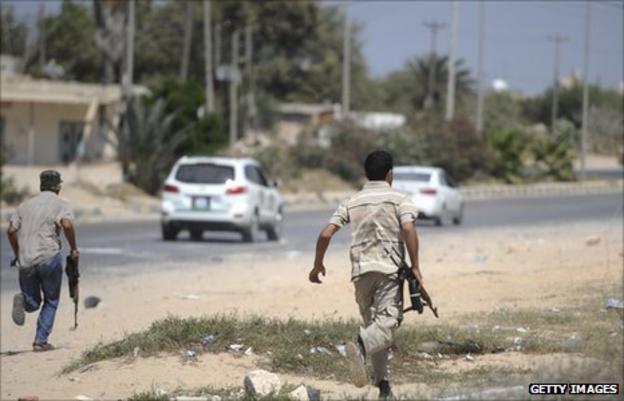 Libya coach Marco Paqueta could be on the verge of quitting his post with his side's continued participation in the 2012 Africa Cup of Nations in doubt.
"It is increasingly difficult to give continuity to my work with the Libya team," the Brazilian, 53, tweeted at the weekend.
"I think this time next week we will have a conclusion."
Next month's Nations Cup tie - against Mozambique - will be played in Mali because of Libya's escalating conflict.
However, it is unclear whether the Group C qualifier scheduled for 3 September can go ahead.
Rebel advances on the capital Tripoli have cut off the road to neighbouring Tunisia, which is the route teams from Libya have taken since February to fulfil commitments following the NATO air blockade.
"After contact with Tripoli, we are very concerned about our friends," Paqueta tweeted on Sunday.
"(They) are in very difficult situation, without knowing what will happen - great tension."
Over the weekend, rebels fighting their way towards Tripoli captured an important military base just 22km west of the capital.
But reporters say support for Col Gaddafi's regime remains strong in Tripoli, where gunfire and protests took place on Sunday following following fierce clashes overnight.
Libya - whose ability to host the 2013 Nations Cup is in serious doubt - still have a strong chance of qualifying for the 2012 finals but there are doubts about their ability to field a team in two weeks' time.
Their seven points in Group C are just one less than the tally of leaders Zambia, with two games left.
After the scheduled clash against Mozambique, the Libyans are due to take on the Chipolopolo in Lusaka in October.
Paqueta, who signed a four-year contract to take charge of the side last June, has been based in Brazil since leaving Libya in March.
Since then, he has flown to Tunisia to meet up with players who have had two internationals since the rebellion started.
Both games were qualifiers against the Comoros Islands - with Libya winning 3-0 in the Malian capital Bamako in March, before drawing 1-1 away in June.