Arsenal boss Arsene Wenger fails to overturn Uefa ban
Last updated on .From the section Football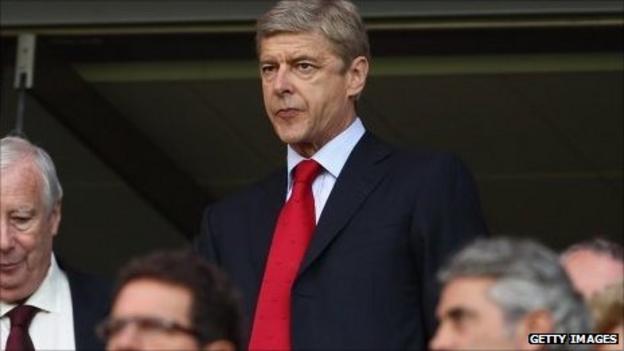 Arsenal manager Arsene Wenger has failed in his appeal to overturn a two-match touchline suspension imposed by Uefa for the Champions League.
Wenger was penalised after being found guilty of contacting the Arsenal bench while serving another touchline ban in last month's 1-0 win over Udinese.
Arsenal were also fined 10,000 euros (£8,700) for improper conduct.
Wenger will now be in the stands for September's group games against Borussia Dortmund and Olympiakos.
The Gunners boss believed he had not done anything wrong after the club had told him he could pass messages to assistant Pat Rice via a coach during the first leg of Arsenal's qualifier against Udinese at Emirates Stadium. He was then told at half-time that this was not allowed.
Wenger said afterwards it was frustrating because the club had asked Uefa before the match for clarification of the rules and that he had stuck to them.
The club appealed against the new ban and Uefa agreed to defer its decision until after the second leg of the play off which Arsenal won to progress through to the group stages.
"The Uefa Appeals Body has rejected the appeal lodged by Arsenal FC and Arsene Wenger against the two-match suspension handed to the manager in the wake of the English club's Uefa Champions League play-off first leg against Udinese Calcio on 16 August," said Uefa in a statement.
"Wenger will now be suspended from carrying out his duties at Arsenal's next two Uefa competition matches - the Uefa Champions League group stage games against Borussia Dortmund and Olympiakos FC on 13 and 28 September - in accordance with the decision taken by the Uefa Control and Disciplinary Body on 22 August.
"The manager was awarded this suspension for not abiding by an earlier decision of the Control and Disciplinary Body during the Udinese home game - in which Wenger was serving a one-match ban imposed following Arsenal's final Uefa Champions League game of last season."