South Africa coach hits out at Egypt decision
Last updated on .From the section Football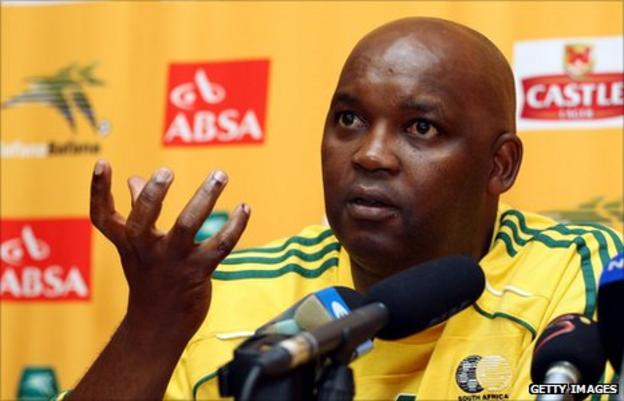 South Africa coach Pitso Mosimane has lashed out at Egypt for choosing youth players for the remaining two matches in the 2012 African Cup of Nations qualifiers.
The Pharaohs have admitted there is little hope of qualifying as they are bottom of Group G with two points.
Bafana Bafana are favourites to top the group as they lead with eight points.
But Niger and Sierra Leone can close in on the group leaders - they have six and five points respectively.
The 1996 Africa champions will not play Egypt in their remaining two which means it is an advantage to the two other sides competing for the group's sole automatic ticket for January's tournament in Gabon and Equatorial Guinea.
And the South Africa coach is upset that the reigning African champions are not taking the remaining matches seriously.
"It is amazing and disappointing at how Egypt looks at the Afcon (Africa Cup of Nations) qualifiers with two matches to go," Mosimane said.
"We are talking about the Kings of Africa here, where's the pride of Egypt?
"We don't want to discredit their Under 23 squad but sending them to Freetown and then to host Niger looks like a donation of six points.
"Niger and Sierra Leone have to face us so we will fight for our six points, we must just focus on what we have to do, and I believe we can get those points in those two matches."
Despite his frustration over the decision by the Pharaohs, Mosimane says their fate is in their own hands.
"It really doesn't affect us much because even if they were using their strongest side we still have a job to do for ourselves, we still have to win our matches," the Bafana Bafana coach said.
"The bottom line is that qualifying for the 2012 Afcon (Africa Cup of Nations) tournament is in our hands, irrespective of what the others teams do.
"We have to beat Niger and Sierra Leone to make sure we qualify, we don't need any favours from anyone because in any case we have been top of our group since the beginning of the qualifiers."
South Africa meet Niger in Niamey on September 4 and a draw in the heart of Central Africa followed by a home win over Sierra Leone on 8 October would seal top spot for Bafana Bafana.
The 2010 World Cup hosts did not qualify for the Africa Cup of Nations in Angola last year.