Everton captain Phil Neville allays negativity at club
Last updated on .From the section Football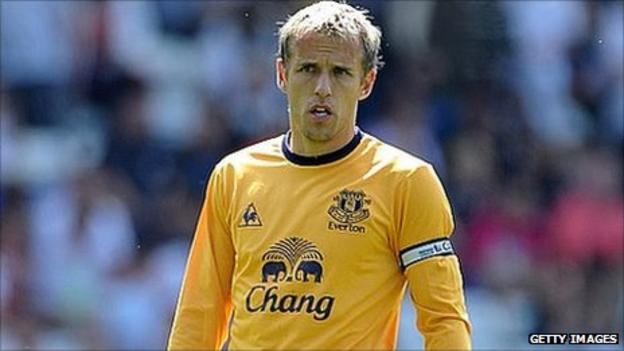 Everton captain Phil Neville has hit out at the recent negativity around the club, urging fans to "stick with us".
But Neville, who signed a new two-year contract on Sunday, told BBC Radio 5 Live: "There is a lot of negativity around the club and it really riles me.
"There's so many plus points and positives at this place."
The 34-year-old added: "It's been a difficult time [on and off the field] - you can't hide from that - but Everton are no different to 70% of the Premier League. The purse strings have to be tightened.
"Yes, there are four or five clubs, the elite, that don't have to - but we do. No we've not bought any players, but this squad is really strong.
"The message to the fans is that we're going to have a really good season. I can understand their frustration but I would just say stick with us.
"If I didn't think this club was going forward, if I thought it was going backwards, I wouldn't have signed a two-year contract. I still want to win trophies."
Speculation has surrounded Everton all summer regarding the potential sale of some of their key assets, such as defenders Leighton Baines, Phil Jagielka and midfielder Marouane Fellaini, while the club's owners continue to struggle to offload the club to investors.
And, allied to that, the Toffees have made just one signing - defender Eric Dier joining on loan from Sporting Lisbon.
However, Neville has pleaded with fans to be patient, saying: "It's not as if I left my ambition at Manchester United - I came here massively ambitious and still am.
"Since making my debut at Villarreal six years ago I've had so many highs. There's no negativity in the club and we're all looking to push on and win trophies.
"I know that the real fans are with us."