Real Madrid boss Jose Mourinho rubbishes quit rumours
Last updated on .From the section Football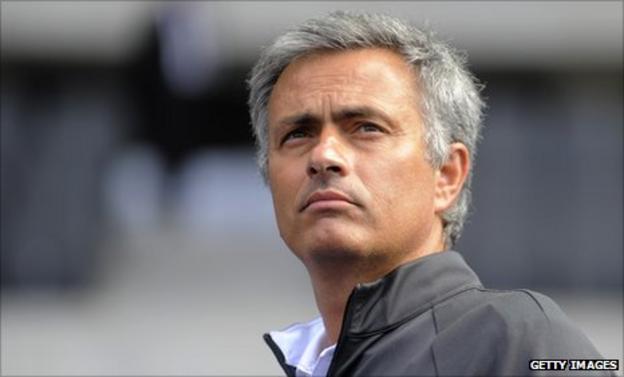 Real Madrid manager Jose Mourinho has written an open letter to fans dismissing rumours that he is set to leave the Bernabeu.
Reports in Spain suggested he was unhappy at supposedly not receiving support from the club's board.
"Only those who don't know me can dream, make up or believe I may leave at this stage," Mourinho said.
The Portuguese is being investigated by the Spanish FA following the bad-tempered Super Cup loss to Barcelona.
The former Chelsea manager praised Real Madrid president Florentino Perez and new director general Jose Angel Sanchez, who replaced the sacked Jorge Valdano following a power struggle.
Mourinho said: "I believe many people were surprised by the quality football showcased by Real Madrid during the pre-season and it would be surprising news to them if I left the club now. Impossible!
"I have a fantastic president, who is very intelligent and with whom I have a great friendship.
"I also have a director general who works for the club 24 hours a day, so my motivation is enormous and my Madridismo is even greater than that of some pseudo-Madridistas...
"There is no way I'm leaving. No way!"
Mourinho also apologised - but only to the Real Madrid supporters - for the fracas that followed the second leg defeat by Barcelona in the Super Cup.
Mourinho appeared to gouge the eye of Barca assistant Tito Vilanova near the end of the match.
He said: "I also wish to apologise to Madridistas, and only to them, for my attitude in our last game.
"Some people are better adapted to the hypocrisy in football than I am, and they hide their faces and speak in whispers deep inside tunnels.
"I'm not learning to be a hypocrite, and I don't want to."
Real Madrid are set to start their new La Liga season away to Real Zaragoza on Sunday, though that depends on the outcome of talks about strike action.