Drogba comparison an honour says Chelsea signing Lukaku
Last updated on .From the section Football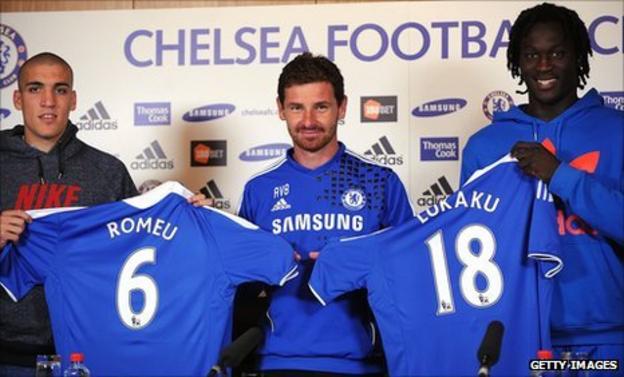 Chelsea's new signing Romelu Lukaku says it's an honour to be compared with Didier Drogba - but he has not come to replace the Ivorian striker.
Lukaku, 18, was presented at Stamford Bridge on Tuesday alongside Spanish midfielder Oriol Romeu.
The Belgian admitted to feeling overawed joining the club he supports, but is eager to learn from Drogba.
He said: "I sit next to Drogba in the dressing room. I listen all the time because he gives advice."
Lukaku, who scored 41 goals in 98 appearances for Anderlecht, said he was not coming in to replace Drogba in the first team, but to learn from him.
"To be compared with Didier is a very big honour to me. Also, with Nico [Nicolas Anelka] and Fernando [Torres] it is the same, so I am very happy to have world-class strikers around me.
"I am not here to replace Didier, just to play for Chelsea, and I hope he will stay as long as possible so I can play with him and continue learning from him. He is a world-class striker.
"When we did some finishing exercises after training he said to focus as long as possible when you hit the ball, until the last minute. [These are] very small things but very efficient."
Lukaku owned a Chelsea shirt before joined the club, and felt some trepidation at joining the group of world famous players that manager Andre Villas-Boas has at his disposal.
"I was quiet and didn't say anything, I just looked around," he said. "You don't know what to say when the captain John Terry tells me, 'Whenever you need me you can call me', and Didier says, 'Well done Romelu'.
"It's like 'Did he just say that to me?'
"It gives you a boost to do more but sometimes when you do something wrong they also scream at you. It's not play time now, that's over and we have to work hard to get success."
Joining Lukaku at the presentation was Romeu, a Spanish Under-20 international, who has been given the number six shirt.
Romeu left Barcelona after making one La Liga appearance, but realises the opportunity he has to make his name in the English Premier League.
"'I am just going to make the most of the experience and take advantage of all the opportunities that arrive," he said.
"I am going to work hard in training and give it my all. I am not setting myself important long-term goals."
On the expected arrival of another Spaniard, Juan Mata, Romeu said: "It's great news for me. He is a wonderful player and I think he can contribute a lot to the team if this goes through."
Meanwhile, German club Hamburg have signed defender Slobodan Rajkovic on a four-year deal.
The 22-year-old is the fifth player to make such a switch since former Chelsea official Frank Arnesen arrived at the German outfit. Jeffrey Bruma, Michael Mancienne, Gokhan Tore and Jacopo Sala have also joined the Bundesliga club.