Swansea City loss is Rodgers' biggest disappointment
Last updated on .From the section Football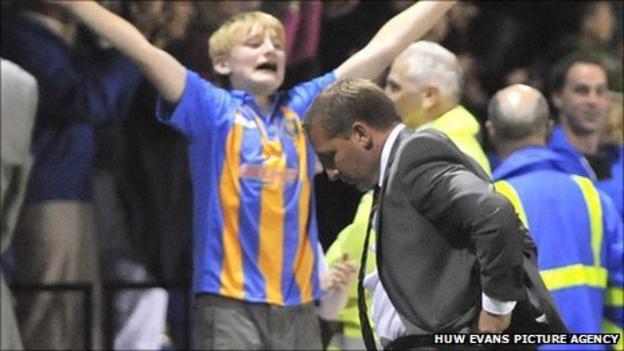 Brendan Rodgers has warned his Swansea City players to use their humiliating Carling Cup defeat at Shrewsbury as motivation for Premier League survival.
"I said to the players it is probably my most disappointing night in football," said Rodgers.
"And for you, it must be the motivation now for you to kick on."
Rodgers has not won a game as top-flight manager since guiding Swansea into the Premier League by beating Reading in last season's Championship play-off final.
But the Swansea manager, who made nine changes from the side that gained their first Premier League point against Wigan on Saturday, had strong words for his defeated side.
"As I said to the players afterwards make sure you remember the Man City game when you made your Premiership debut," said Rodgers.
"Make sure you remember how well you played against Wigan but don't forget to tell your grandchildren that you played against Shrewsbury and lost - because that's the reality.
"They need to remember that because that shouldn't happen.
"The only reason you do lose a game like that 3-1 when you are a Premier League team against a League Two team is attitude. Simple.
"We are not good enough to just turn up anywhere and win a game at 70-75 percent, we're not that good.
"We are a good team and we had a fantastic season last year but we need to fight in every single game that we play as a team
"And tonight when you see if you don't have everyone fighting, it doesn't matter the opponent, you have a big chance to lose the game."
Rodgers defended his selection policy as just Ashley Williams and striker Danny Graham remained in the starting line-up.
"I always put out a team strong enough to win the game," he insisted.
"I wanted to do well in the tournament and the players wanted to do well but you have to have the mindset to go and do the ugly bits of football - and tonight we didn't and we got punished.
"There was maybe some disappointment with one or two players that they haven't got to play in the Premier League and they might not get a chance and tonight is your chance to show you are fighting for a position. And they didn't show.
"We had a couple of good performances. There's some players that put their hand up and said don't pick me for Saturday."
Asked if the lack of mental attitude disappointed him, Rodgers replied: "Very much so. It is very, very unusual.
"It is not something that is inherent in the group or not something that is inherent in the club - it was just tonight.
"I felt our mentality in the first-half cost us the game. I can act on it."