Celtic boss Lennon 'not under pressure' to win in Sion
Last updated on .From the section Football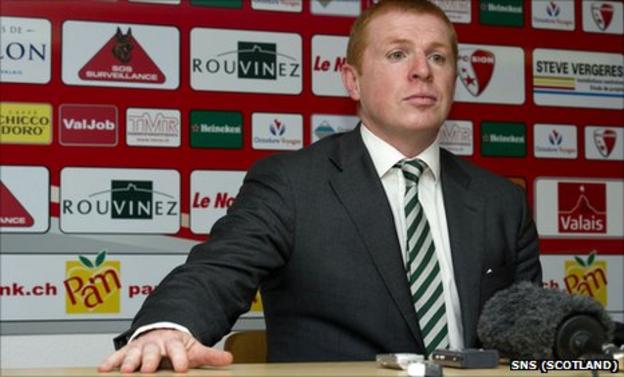 Celtic manager Neil Lennon insists he is not under any additional scrutiny "from up above" ahead of the Europa League play-off decider against Sion.
Lennon's side exited the competition at the same stage last season and take a 0-0 first-leg score into Thursday's match in Switzerland.
Asked if he was under pressure to progress, Lennon replied: "No, not at all.
"The pressure is no different from any other game, every game is a huge game."
Celtic, like many Scottish clubs, have struggled in European competition in recent seasons and Lennon is eager to buck that trend.
"It is a very important game for me personally," he said. "I would dearly love to take the club into the group stages.
"It is going to be very difficult. Sion are a good team, which they proved last week.
"And in the context of the season it is a big game because it would open doors revenue-wise and it would keep our interest in Europe going at least until December.
"For the players as well, it is important to get into the group stages where they can develop their game a bit more."
Celtic lost for the first time this season when St Johnstone left Glasgow with a 1-0 victory on Sunday and Lennon was fiercely critical of his side after the match.
"I didn't think it was harsh," he added. "It was the way I saw it.
"I am pretty good with the players when they perform well and if they don't perform the way we expect them to I have every right in pointing that out. I can't pull the wool over people's eyes and I am not prepared to do that.
"We had a meeting on Monday. We analysed the game and we closed the door on that and moved on. They are a lot better today."
Meanwhile, Anthony Stokes says the players are eager to atone for that surprise defeat.
"The most important thing is that we knew we didn't turn up on the day," said the striker.
"When you miss chances like we did, there is always a chance you are going to get punished.
"We owe the gaffer one, we owe the fans one and we owe ourselves one.
"It was disappointing against St Johnstone but if we can win in Sion, it'll make up for it."