Alan Shearer on where Samir Nasri will fit in for Man City

By Alan Shearer
BBC Sport pundit
Last updated on .From the section Football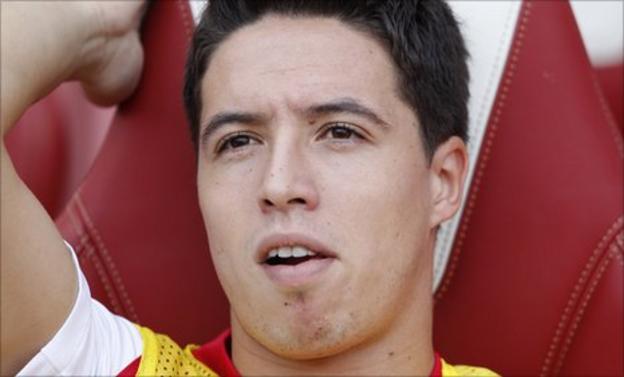 Manchester City have an embarrassment of riches going forward after signing Samir Nasri but I am sure their manager Roberto Mancini is happy to have the problem of working out how he is going to fit all his star players into his team.
I would not say yet that City now have the best attack in the Premier League, because it has to stand the test of time over the course of the season, but on paper it looks very exciting.
We have already seen how good David Silva is at instigating attacks, and Nasri is another technically gifted and creative player who can either play alongside Silva or instead of him.
Nasri will offer even more flair and width when City come forward and I can see why Arsenal were so keen to keep him. He will be a huge loss to the Gunners.
Not all of City's forward players will be able to play at the same time, of course, but the key for Mancini is that he is now able to rotate his squad in every competition. He has not just built one team, he has now got two.
Mancini will be able to rest players and also choose when he wants to bring different people in to suit his tactics and needs on every front, domestically and in Europe.
The one complaint City fans had with their manager last season was that they did not play with enough flair or have enough ambition to unlock defences but I don't think that is going to be an issue now he has signed Nasri and also Sergio Aguero this summer.
To put it simply, City have now become realistic contenders in the Premier League and Champions League. I still think Manchester United will win the title but don't be surprised to see City challenge domestically and for the top prize in Europe too this season.
As for Mancini keeping all his star players happy? Well, when you join a club like City you know you are always going to be a squad player. And the fact they are on huge money is going to help.
It will still be a challenge for the manager but Mancini is in four competitions and will definitely prefer to have options.
That is why I think it is important for City that Carlos Tevez stays. In an ideal world for Mancini, Tevez will either change his mind and decide to stay in Manchester or will have to because no other club can afford him.
If Tevez is in the right frame of mind, then he is another player that almost guarantees them goals, although they do not exactly look short in that department anyhow.
One City player who will definitely be affected by Nasri's arrival is Adam Johnson. He already gets limited game time, and he might have to live with getting even less.
He is a player who is going to be rotated, which might affect his England chances, but it is not a bad thing that he faces a challenge to win a place in the team.
It is Arsenal who I am most worried about. Just as with Cesc Fabregas, they will miss Nasri badly.
They have to try and bring somebody else in with quality and experience, and quickly. That would be difficult anyway but is made even harder because the transfer window shuts in a few days.
To get someone with the same ability as Nasri will be almost impossible. Arsenal fans just have to hope that Arsene Wenger has something special up his sleeve.