Fenerbahce appeal against ban from Champions League
Last updated on .From the section Football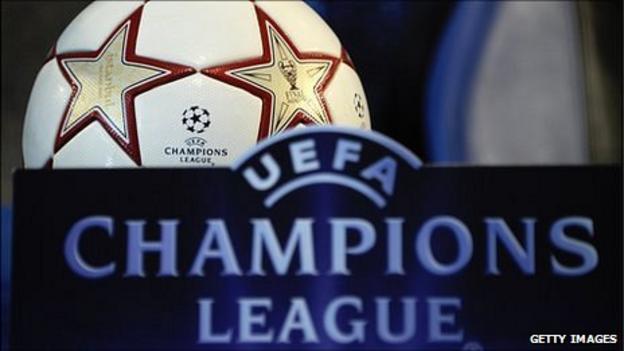 Turkish champions Fenerbahce have appealed against the decision by the Turkish Football Federation to withdraw them from the Champions League.
Uefa has announced Turkish runners-up Trabzonspor will take their place.
Trabzonspor had already been eliminated from this season's Champions League in the qualifying rounds.
The decision means that their scheduled Europa League qualifier against Athletic Bilbao on Thursday has been cancelled, with the Spanish club progressing automatically.
The Fenerbahce decision was taken after the Turkish Football Federation held an extraordinary board meeting on Wednesday attended by Uefa's legal counsel for integrity, Pierre Cornu.
According to a statement on the TFF website, Uefa wrote to the federation on Tuesday to demand Fenerbahce's withdrawal, threatening wider disciplinary action should they fail to do so.
The letter was forwarded to Fenerbahce, who declined to withdraw, TFF said.
"In the face of this development, on 24 August an extraordinary meeting of the board of directors was held to discuss the threat of the Turkish Football Federation being exposed to severe disciplinary sanctions if Fenerbahce took part in the Uefa Champions League this season, and it was decided to bar them from participating," the statement said.
Uefa general secretary Gianni Infantino added: "The panel considered that the Turkish Football Federation took the right decision to protect the game, fully in line with our zero-tolerance policy against match-fixing."
More than 30 players and officials have been jailed pending trial, including Fenerbahce chairman Aziz Yildirim and the coach and deputy chairman of Besiktas, in connection with alleged manipulation in 19 matches.
Fenerbahce said in a statement that Uefa's stance on the issue was unlawful and that it could take legal action against both it and the Turkish federation, underlining the principle of "innocent until proven guilty.
"With this decision, the TFF has bowed to the unlawful approach of UEFA," the club said on their website.
Their lawyer Haluk Burcuoglu confirmed an appeal had been lodged with the arbitration committee of the TFF.
"This decision has nothing to do with justice," he said. "The TFF does not have the authority to exclude a club from the Champions League."
Fenerbahce were crowned league champions last term, pipping Trabzonspor to the Super Lig title with a dramatic 4-3 win at Sivasspor on the final day.