Arsene Wenger relieved as Arsenal beat Udinese in Champions League
Last updated on .From the section Football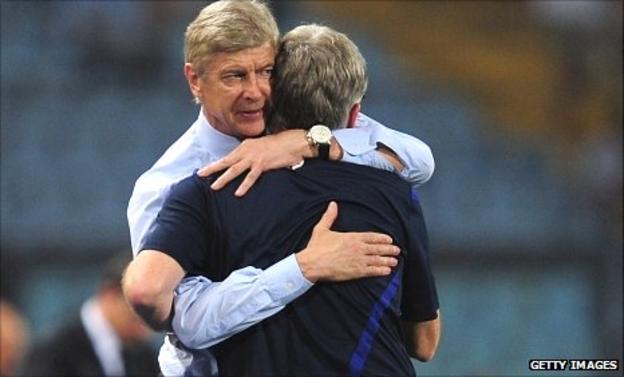 Arsenal manager Arsene Wenger hailed his team's response to recent setbacks as they beat Udinese to book a place in the Champions League group stage.
Robin van Persie cancelled out Antonio di Natale's opener before Theo Walcott sealed a 2-1 win (3-1 on aggregate).
"[There is] relief of course, we don't want to go out - and pride as well, because we had our backs to the wall and responded very well," said Wenger.
"It showed that under pressure this team can respond with football."
Arsenal have endured a torrid couple of weeks, with Cesc Fabregas joining Barcelona and Samir Nasri leaving for Manchester City.
The Gunners drew 0-0 away to Newcastle on the opening day of the Premier League season and were beaten 2-0 at home by Liverpool on Sunday.
They took a 1-0 first-leg lead to Italy but suffered a further setback on the eve of the match when midfielder Jack Wilshere broke down in his recovery from an ankle injury.
Missing out on the group stage of Europe's elite club competition for the first time since 1998 would have cost Arsenal at least £20m.
But Wenger's side showed much-needed resolve to get past Udinese and they can now look forward to Thursday's draw in Monaco.
"We had a great belief in the way we want to play," said the Frenchman, who has been forced to answer questions about his own future following six trophyless seasons.
"There are many questions around our club, if we had gone out tonight it would have been much worse. It was important not financially, like many people have said, but more for the fact we want to play at the top level.
"We live in a society where everybody has an opinion on everything. I'm like somebody who flies a plane for 30 years and I have to accept that somebody can come into the cockpit and thinks he can fly the plane better than I do.
"But that's part of our job and we have to accept that. I just would like to say that the club is in overall a very strong position because tonight, for 15 years on the trot, we play in the Champions League."
Di Natale give Udinese a first-half lead with a superb looping header but Van Persie equalised shortly after half-time with a powerful finish from Gervinho's cut-back.
A Thomas Vermaelen handball saw Udinese awarded a penalty, only for Wojciech Szczesny to deny Di Natale with an outstanding one-handed save.
"That was a turning point of the game," stated Wenger. "We had a fantastic second half. I'm very happy because we kept composure.
"We kept dominating, playing the football we want to play. We played a great game tonight"
On the subject of potential new signings before the transfer window closes on 31 August, Wenger commented: "We work very hard.
"I have said that many times, but we have many players out as well so I think we can be very positive as well.
"There may be signings but I cannot give you any names tonight. I cannot lie and say we sign somebody tomorrow."