Mohamed bin Hammam launches appeal against Fifa ban
Last updated on .From the section Football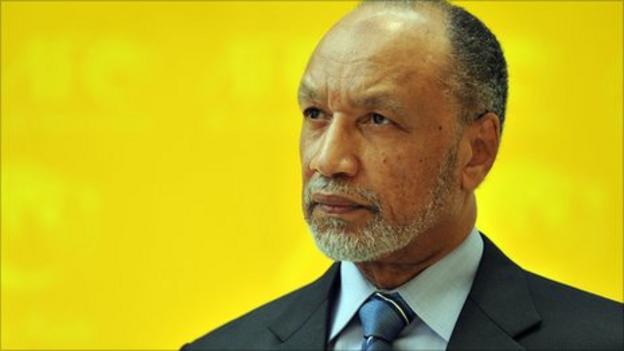 Former Asian football president Mohamed bin Hammam has appealed against his lifetime ban from Fifa but expects a lengthy battle to clear his name.
In a statement, Bin Hammam, 62, said: "I have submitted my case to the Fifa Appeals Committee.
"Not hoping for justice to prevail but as a protocol to enable me access to the Court of Arbitration of Sport."
Last month Bin Hammam became the most senior figure to be banned by Fifa in its 107-year history after attempting to bribe Caribbean officials during his bid to oust Sepp Blatter as Fifa president.
He was accused of attempting to buy votes ahead of June's Fifa presidential election, from which he later withdrew.
Last week Fifa released the reasoned decisions by its ethics committee to ban him, which, in turn, allowed Bin Hammam to start his appeal.
However, he believes his chances of receiving justice are limited.
"The panel from the Appeals Committee is decided by my opponent and in this case, as previously, the judge is the rival," Bin Hammam stated.
"Therefore, I should not exaggerate hope for a fair decision.
"Going through the motivated decisions, we found them to be deeply flawed and raises grave doubts on whether any decision-making body of Fifa has sufficient independence to ensure a fair decision based solely on evidences and applicable laws.
"Based on our experiences, we expect the appeal process and decision to take approximately two months, not because this time is necessarily needed but more due to Fifa's tactical games and abuse of power, as evident throughout this case."