Maribor coach Darko Milanic denies firing up Rangers by protest
Last updated on .From the section Football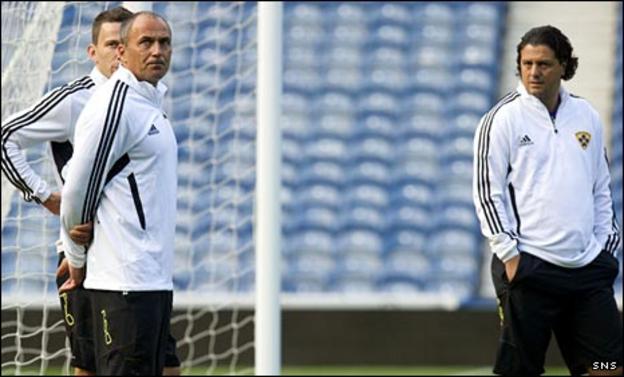 Maribor coach Darko Milanic is not worried about giving Rangers extra motivation by challenging the eligibility of Carlos Bocanegra.
Uefa threw out the Slovenians' protest ahead of the Europa League play-off second leg at Ibrox, which Rangers start 2-1 behind in the tie.
"A large club like Rangers doesn't search for their win in anger but in other opportunities," said Milanic.
Milanic insists Rangers are still favourites despite trailing in the tie.
"Prior to the first match, Rangers had the role of favourites," said the coach.
"Regardless of the result, that role still belongs to Rangers, they are favourites for this match.
"Our role is to do our best to repeat the result in Maribor.
"Everyone sees the matches differently, but we were very satisfied with our performance in the first game."
United States defender Bocanegra was signed by Rangers the day before the first leg and played in Slovenia.
However, he was unable to play for the Scottish champions in Sunday's Scottish Premier League game at Motherwell because he did not obtain a visa to work in the UK until Monday.
And, despite having their protest rejected by Uefa, Maribor have three days to appeal the decision.
Milanic said it was something for the club's board to deal with, but it appears likely that Maribor will pursue the matter should they lose the tie.
The statement from European football's governing body read: "The protest lodged by NK Maribor against the result of their Uefa Europa League play-off home game against Rangers FC has been rejected and the 2-1 scoreline has been upheld.
"The chairman of the Uefa control and disciplinary body as judge sitting alone did not deal with the merits of the protest lodged by NK Maribor against the result of their Uefa Europa League play-off first leg against Rangers FC and has upheld the result of the match. Therefore, the protest was rejected.
"The Slovenian club recorded a 2-1 win against their Scottish visitors on 18 August, as under the Uefa disciplinary regulations a club is entitled to lodge a protest within 24 hours of the match in question and Maribor missed this deadline.
"The Uefa ruling is open to appeal within three days of the notification of the decision."