Arsenal and Birmingham aim for inaugural WSL title
By Alistair Magowan
BBC Sport
Last updated on .From the section Football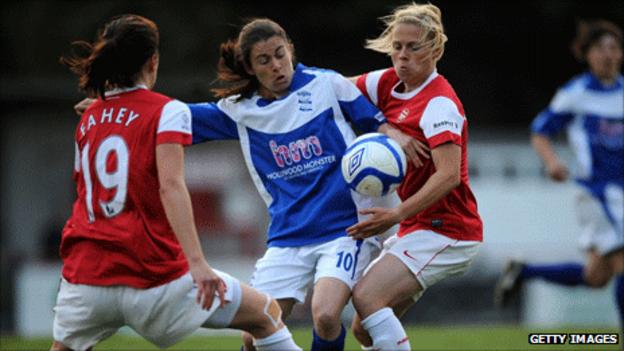 Arsenal boss Laura Harvey believes winning the inaugural Women's Super League title would be one of the club's biggest achievements.
The Gunners have dominated English football in recent years but they must win their last game at Liverpool if they are to pip Birmingham.
And after reaching the Champions League semi-finals, Harvey said it was one of the toughest seasons yet.
"A lot of the players would see it as a massive achievement," Harvey said.
"Although some of them may have 10 or 11 trophies in their cabinet already, they know that this has been a real tough test, and to come through it can only show the character that they possess.
"I think this year has been the most pressurised, the most competitive and the most heart-wrenching, at times, that I've been involved in in any of my football career.
"The players would say the same - that its been the most competitive 12 months they have been involved in at the club.
"You could argue that is because we are not as strong as we used to be but you could also argue it's because the teams around us are trying to close the gap."
Arsenal are one point ahead of Birmingham as the Blues travel to Doncaster on Sunday, with both games kicking off at 1400 BST.
So the Blues, coached by David Parker, must win to have any chance of winning the title.
Birmingham have led the Women's Super League for most of the season, with Arsenal only taking top spot in the table after beating Everton last week.
And while Parker realises they have an outside chance given that the Gunners are facing bottom of the table Liverpool, he still believes that his team have achieved huge success this season by breaking the established top two of Arsenal and Everton.
"We'll be going for three points against Doncaster and then we will have to hope and pray a little bit," he told BBC Sport. "But by no means are we going to let any chance slip.
"There is a slight tinge of disappointment that it's not in our own hands, but if you look at the picture over the season, where we've come from and the financial budget we've had to compete with against Arsenal, to take it to the last game of the season is a great achievement.
"If we did take the title it would be a dream and a realisation of all the hard work that is done by everyone at the club."
Before they joined the WSL, Birmingham finished 10th in the Premier League and there are five teams who operate on a higher budget than the west Midlands team.
Part of Birmingham's success has been down to midfielder Rachel Williams being pushed into a more attacking role, which has seen her top the scoring charts with 14 goals in 13 games and earn a recall to the England squad.
"My finishing has just been down to composure, just taking the simple goals really rather than before I always wanted to go for a great goal," she said.
"For me as a player to win the Super League, I couldn't ask for anything more, I would be over the moon."