Matt McKay will not make his Rangers debut until September
Last updated on .From the section Football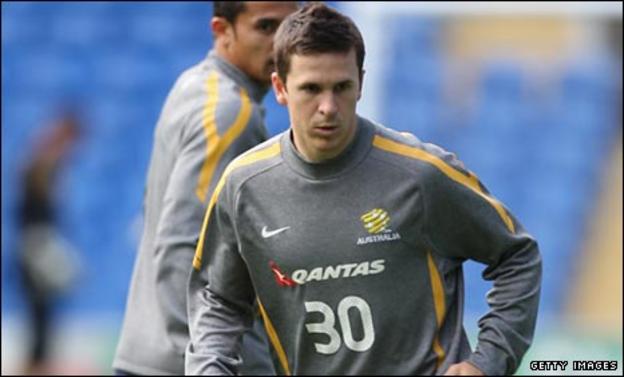 Matt McKay has received a UK visa to play for Rangers, but the Australia midfielder will not be available to make his debut until 10 September.
The 28-year-old will not arrive in Britain until 7 September, three days before the Scottish champions travel to Tannadice to take on Dundee United.
"I'm staying back in Australia to play in our World Cup games," he explained.
"It's a long way to go to Scotland in time for the game at the weekend and it makes more sense to stay here now."
Australia face Thailand then travel to Saudi Arabia, from where McKay will head for his new home following his protracted transfer from Brisbane Roar.
The left-sided midfielder feels frustrated at the delay to his arrival at Ibrox.
"I just got my visa today and I'm really excited," he told Rangers' website.
"It took a bit longer than I expected, but it's great to get it all sorted now.
"It's a difficult process to get through, but I'm glad it's all done now.
"I have been fast-tracked through and I can't wait to get started now.
"It's not the best as you are waiting around when you know you could be over in Scotland playing games."
However, McKay is confident that he will be ready if called upon to make his debut on Tayside.
"I'll be ready for the Dundee United match," he said.
"I'm used to the travelling and quick turnarounds after internationals in Europe, so I'm prepared and all set to go.
"I just want to play now. Our longest wait was for my work permit, but once that came, I was delighted and, now the visa is through too, I can concentrate on playing for Rangers."