Neil Lennon hails "brilliant" Celtic after European exit
Last updated on .From the section Football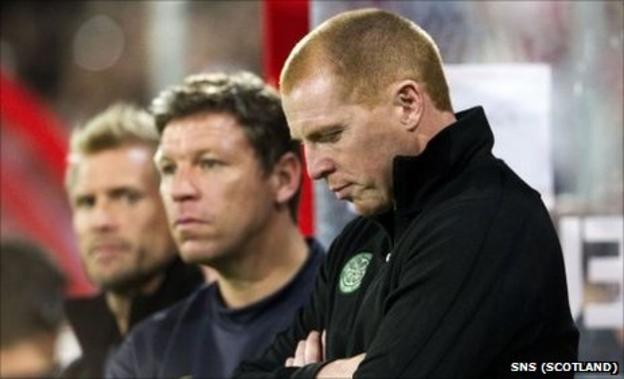 Celtic manager Neil Lennon described his side as "brilliant" despite their Europa League exit.
"The result is very damaging obviously, but I saw a lot of good things from the team," Lennon told BBC Radio Scotland.
"I can't fault the players, they were brilliant. They played for 87 minutes with 10 men and played excellently."
Celtic were reduced to 10 men within 45 seconds of the match starting, when defender Daniel Majstorovic hacked down Guilherme Afonso inside the penalty box.
Pascal Feinduono slotted home the resulting spot-kick, before adding a second from a free-kick in the 63rd minute.
Celtic defender Charlie Mulgrew pulled a goal back late on but Giovanni Sio replied for the home side immediately.
Despite the setback, Lennon says the result will have a positive impact on his side as the now concentrate on the league season.
"It was a pretty poor start to say the least," Lennon added. "But once we got the goal I thought we were going to do it.
"But for a bit of luck we could have got the result we were looking for."
Lennon's Celtic side were knocked out of the Europa League at the same stage last season and Lennon admitted his team should have beaten a side who almost went out of business in 2002.
"I think it is fair to say we should have beaten Sion, but we didn't do ourselves justice in the first game," he explained
"We got off to a horrendous start tonight, but I think after that you saw the real Celtic team, and I hope they take some crumb of comfort from the spirit they showed and the quality of the football."
Celtic also remain hopeful of a red tape reprieve.
Sion have five players in their squad - Feindouno, Mario Mutsch and Gabri, Jose Goncalves and Billy Ketkeophomphone - who, in the eyes of the sport's governing body Fifa, are ineligible to play in the competition.
The Court of Arbitration for Sport will now rule on the issue which centres on a transfer embargo placed upon the club, next week.
"We have sent in letters last week and handed one to the delegate," said the Celtic boss.
"There is hearing on Tuesday and we will know the outcome after that.
"If clubs are breaking the rules then every club should break the rule then."