Wrexham manager Dean Saunders unhappy after email leak
Last updated on .From the section Football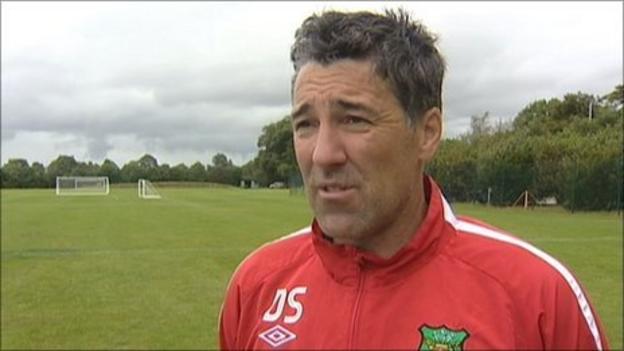 Wrexham manager Dean Saunders is disappointed with a leaked email which suggests he could quit or threaten to resign from the club.
Saunders saw an email exchange between two members of the board of the Wrexham Supporters Trust, which is negotiating to buy the club.
However, the former Wales striker said he was not going to resign and would seek an explanation.
The trust said no offence had been intended and an apology offered.
The email exchange between various parties began with queries over business matters as the trust worked on its financial plan.
Trust board member Rob Parry went on to tell WST chief executive Richard Green: "I suspect we should expect DS [Saunders] to resign or threaten... the team's form isn't our ally here!!!"
"I'm going to speak to the relevant people and ask for an explanation and ask what the plan is," Saunders told the BBC after he received a copy.
He added the only way he would part company with the club would be if there were cuts to force his own job loss.
A WST statement said the email sequence "captures some tensions in relationships" and "mainly relates to the difficulties the Trust had in receiving material that has been sought to complete due diligence".
However, the statement does accept: "A reference was then made to a view that Dean Saunders might consider his position if [current Wrexham board member] Jon Harris were to leave the club and that there could be an adverse reaction to that situation.
"No offence was intended within that comment and the author of the email has already apologised for any offence that has been taken."
Spencer Harris, a WST board director, said negotiations were continuing between the current board, Saunders and the Trust, but said that if the takeover is successful the new owners will seek to give the manager their full support.
WST members voted unanimously this week in favour of the takeover and the board are expected to conclude negotiations with current owners Ian Roberts and Geoff Moss and submit plans to the Football League.
"I don't think there's anyone who wants Dean Saunders to resign... Dean Saunders did a fantastic job last year leading Wrexham to fourth place in the table," Harris said.
"He got us to the play-offs and did an all-round sterling job and the form... has carried on into the start of this season.
"The Trust is fully committed to wanting the team to be successful and that means that we want to do everything that we can to be as supportive to Dean and to the team to give them all of the things... to be successful.
"Wrexham knows more than any other club that there are limits in terms of finances and... we believe through being highly organised that that can give us as much of a competitive advantage as lots of finance."
Wrexham have had a great start to the season and are currently joint top of the Blue Square Bet Premier.
Saunders, meanwhile, said he would do his best to make sure off-field matters did not disrupt their on-field momentum.
"These emails are a bit dangerous and unfortunately I've seen an email that I shouldn't have seen and it's not very nice, a bit disappointing," Saunders added.
"But what can you do? I'll just get on with it, we've got two big games coming up at the weekend and we're joint top of the league.
"I've got my mind set on Alfreton and then after that we're going to Fleetwood.
"So I'll just plough on like I normally do... I don't want anything to get in the way of that because we've had enough trouble as it is."
Earlier in August, Wrexham fans helped raise more than £100,000 towards a £250,000 bond which had to be paid to the Football Conference to ensure the cash-strapped club could compete this season.
Glyndwr University recently bought the club's Racecourse Ground and Colliers Park training facilities.