Arsene Wenger wants three players before transfer deadline
Last updated on .From the section Football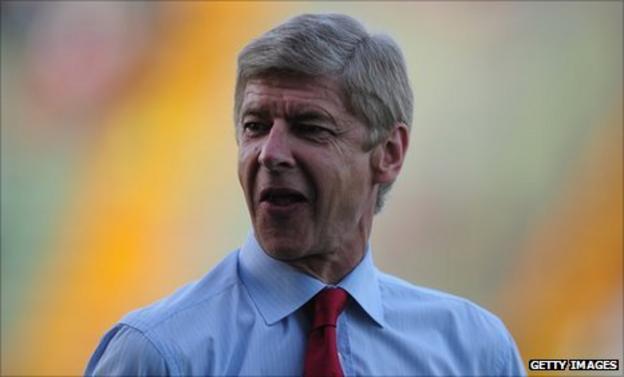 Arsenal manager Arsene Wenger has said the club can challenge for the Premier League title if he brings in new faces.
After the high-profile departures of Cesc Fabregas and Samir Nasri, Wenger wants two or three new players to strengthen his squad.
"I am anxious because I want to do it and I try everything to do it," said Wenger.
"We are dependent on the desire of the people who have the players to sell the players."
Arsenal play champions Manchester United at Old Trafford on Sunday, having picked up one point from their first two Premier League games.
United have won their opening two matches, against West Bromwich Albion and Tottenham, and sit alongside Manchester City and Wolves at the top of the table.
Wenger has added several young players to his squad, including Alex Oxlade-Chamberlain, Carl Jenkinson and Joel Campbell, but wants more experience for the season ahead.
On Friday it was revealed that his bid for England defender Gary Cahill was turned down by Bolton Wanderers.
"I will try to strengthen the squad in depth because at the moment we are a bit short number-wise, but if we get two or three players in we have the quality to challenge.
"I am confident as well because we have some good young players who can make a big step very quickly."
Wenger admitted the early-season sendings-off of Gervinho, against Newcastle, and Emmanuel Frimpong, against Liverpool, plus the three-match ban for Alex Song for his stamp on Joey Barton, have cost his team points.
"The discipline has cost us a lot since the start of the season. If we had mastered our responses and reactions we could have six points," he commented.
"It's even more important to get results and not let Manchester United away too early. It is vital for us to have a good game on Sunday."
Qualifying for the Champions League by overcoming Udinese took some pressure off Wenger, who has not won a trophy for the club since the FA Cup in 2005, but the Frenchman won support from Sir Alex Ferguson as the managers prepare to face each other for the 31st time in the Premier League.
"The work he has done in the 15 years he has been at the club is the best in Arsenal's history," Ferguson said on Friday.
"Yes, he has not won a trophy for six years but what does that mean? The quality of his side has not been reduced.
"It is a bit unfair of course. But who understands fairness and unfairness today? It is quite a cynical world. Supporters are far less easy to please than they were 20 years ago. It is disappointing."