Nigeria in 2013 Nations Cup U-turn
Last updated on .From the section Football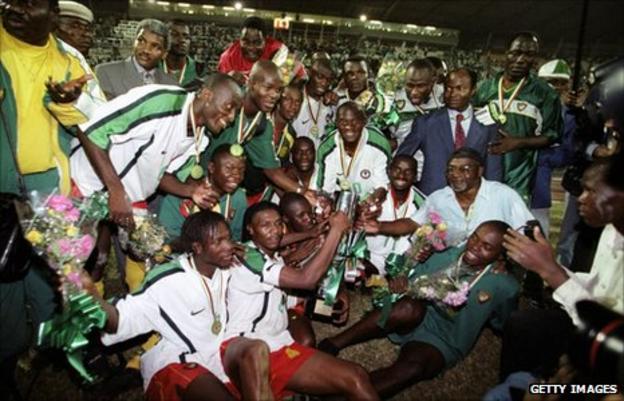 Nigeria has had a dramatic shift in thinking with regard to hosting the 2013 Africa Cup of Nations finals.
Libya is currently due to host the finals but its ability to do so has been cast into serious doubt because of the ongoing conflict there.
On Thursday, 2017 hosts South Africa announced that they had agreed to swap Nations Cup tournaments with Libya.
Nigeria initially backed the idea before making a U-turn on Friday as it claimed its 'rights as stand-by hosts'.
"The board of the Nigeria Football Federation (NFF) wish South Africa all the best," NFF spokesman Ademola Olajire had told BBC Sport on Thursday.
"The decision between both countries must be applauded and respected by all."
However, in a statement released on Friday, the NFF revealed that it has written to the Confederation of African Football (Caf) to remind the body of the decision it took in 2006.
Due to announce the hosts of the 2010 finals from a shortlist of five countries, Angola won the 2010 finals, Equatorial Guinea and Gabon 2012, Libya 2014 - while Nigeria were officially put on stand-by.
This was in the event that any of the original hosts were unable to stage the finals.
"However, the reality of the situation on the ground in Libya means that they can not possible play host to a football tournament the magnitude and importance of the Africa Cup of Nations," the NFF said in a statement.
"We are aware of this fact, aware of the resolution of 6 September 2006, and are prepared to exercise our rights as standby hosts for the 2013 Africa Cup of Nations.
"We would like [Caf] to call to order the football association of Libya, and make them realize that it is not in their hands to decide who to bequeath hosting rights of the Africa Cup of Nations.
"It is the prerogative of CAF, and since we have not indicated anything to the contrary, we reserve the right to step in and start making preparations to host a successful competition in 2013."
For its part, Caf has said it will not make any decision on Libya's ability to host the 2013 finals, nor any potential replacement, until late September.
When Nigeria last staged the Nations Cup, along with Ghana in 2000, the West African nation profited from the late inability of scheduled venue Zimbabwe to host African football's premier event.