Fenerbahce ask for relegation after match-fixing claims
Last updated on .From the section Football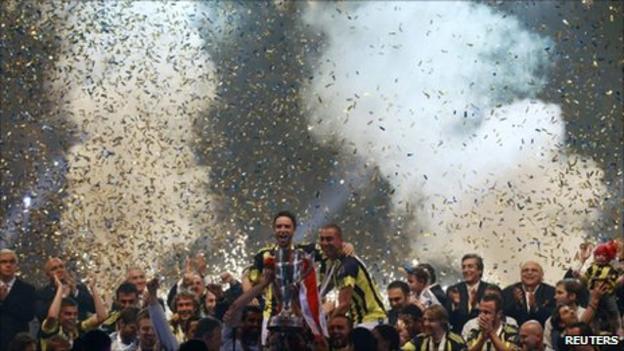 An appeal from Turkish side Fenerbahce to be relegated from the country's top division following match-fixing allegations has been rejected.
But the TFF said it would not make a decision on clubs or individuals while a police investigation was ongoing.
A statement said fixtures would now "be played as previously scheduled".
Fenerbahce were crowned league champions last season but were kicked out of the Champions League following an extraordinary general meeting and replaced by runners-up Trabzonspor because of UEFA's zero-tolerance policy on match-fixing.
More than 30 players and officials have been jailed pending trial - including Fenerbahce chairman Aziz Yildirim - in the ongoing match-fixing investigation. Officials are examining 19 games from last season.
Under league rules, were Fenerbahce to be relegated the punishment would not happen until next season.
The club's appeal to be relegated straight away was an attempt by them to draw a line under the affair.
But a statement on the TFF website said: "The TFF decided there was no reason to change the decision it made on 15 August."
In that ruling, the Turkish federation said it would not take any decisions until after a Turkish court lifts the secrecy on evidence being given to an ongoing police probe.