Jim McIntyre says Pars deserved to lose to Motherwell
Last updated on .From the section Football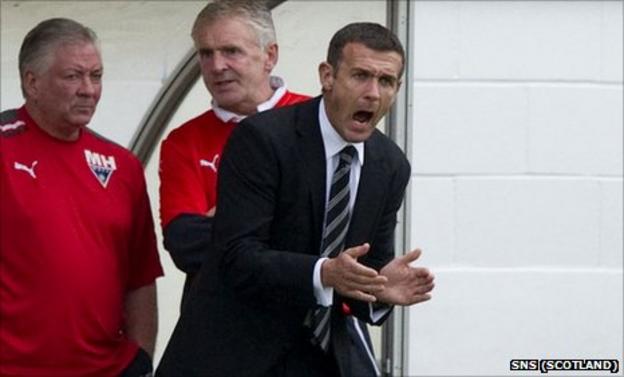 Dunfermline boss Jim McIntyre insists his side deserved to lose to Motherwell after a poor first-half performance.
A second-half double from Joe Cardle almost allowed the Pars back into the tie, before Michael Higdon's late goal secured a 4-2 win for the visitors.
"They played well, but for me we didn't compete enough," McIntyre told BBC Radio Scotland.
"In the second half we got ourselves back in the game, but Motherwell deserved to win."
Motherwell were completely dominant in the first-half and looked to have killed the game off in the 55th minute when Chris Humphrey added to Michael Higdon's well-worked opener and Jamie Murphy's deflected strike.
But Dunfermline got back in the game when David Graham's long-range strike hit off team-mate Joe Cardle and sailed past Darren Randolph in the 69th minute.
Then Cardle's deflected strike in the 88th-minute briefly gave the home side hope before Higdon finished the contest with a tap-in.
"We were extremely disappointed with our first-half showing and Motherwell punished us," McIntyre added.
"They're a good side and we'll have days like this when it is a learning curve.
"We learned that if you don't start games well, it is hard to recover.
"You will get punished at this level. It is about how they respond to it now."
The international break means Dunfermline are out of action until they face Kilmarnock on 10 September, and McIntyre says he'll use that time to regroup.
McIntyre added: "You always want to go into a break with a win under your belt, but we haven't got it.
"We won't be despondent, we don't allow that on the training ground anyway. We'll bounce back. I'm positive of that."