Victory the priority for Rangers manager McCoist
Last updated on .From the section Football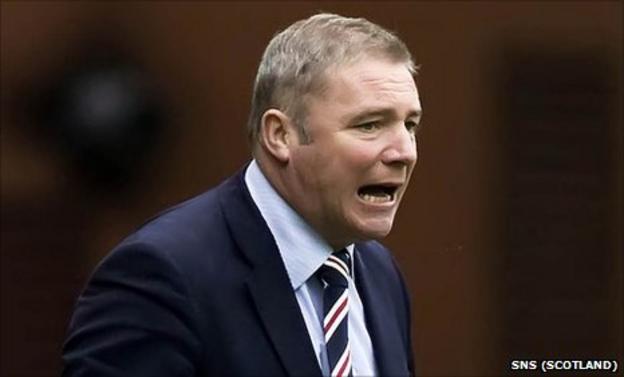 Rangers manager Ally McCoist emphasised the importance of gaining all three points after an "average" performance against Aberdeen at Ibrox.
"It was a little bit disappointing but the most important thing, more so today, we had to win that game of football and we did," said McCoist.
"We got off to a good start with the goal. You obviously want to kick on from there, I didn't feel we did."
Steven Davis fired Rangers in front and Steven Naismith tapped home a late second with Aberdeen's Richard Foster having headed agaisnt the crossbar earlier in the second half.
"I'm not going to sit here and say it was pretty," McCoist told BBC Radio Scotland.
"We'll play better and I don't have any doubt about that and the fans can be rest assured that we'll play much better football than we did today but hopefully they like ourselves are just pleased we won the match."
Rangers exited Europe on Thursday with an aggregate defeat to Maribor in the Europa League play-off round and McCoist was relieved to get back to winning ways.
"It was a big disappointment but you don't have time to be disappointed because the next game's only around the corner and that's one of the blessings of playing at and being involved at a club like this," said the former Rangers striker.
"There's a lot of people who go through their careers whether it's in management or playing or coaching at clubs where, with the greatest respect, it's not really the end of the world if you don't win every week.
"It is the end of the world here if you don't win every week. I wouldn't swap it, I wouldn't have it any other way.
"I was lucky enough to be here as a player for 15 years, I know what it's like, I know what the fans expect. That's fine by me, we all know the rules. We know what's required and that's to win games of football."
The tranfer window closes on Wednesday and, when asked if he was now under pressure to sell players following the European exit, McCoist replied: "Absolutely not.
"I had lunch with (owner) Craig (Whyte) before the game today, we had a good chat. He's obviously as disappointed as we all are about Thursday night.
"We're looking at the squad and we just want to press on. We've got three trophies to play for domestically and we'll be doing that.
"We're always looking to get people in but we'll just wait and see. The next 72 hours is going to be very, very interesting. There's nothing happening at the moment, that's not to say nothing will happen."
Rangers are next in action against Dundee United on 10 September with domestic football taking a break for international games.
"Hopefully it will give our injured lads a little bit of time to recover," added McCoist.
"We want to get our players back fit and have a bigger squad to pick. In that respect, the next two weeks will hopefully be a little bit of blessing."