Diego Forlan agrees move from Atletico Madrid to Inter Milan
Last updated on .From the section Football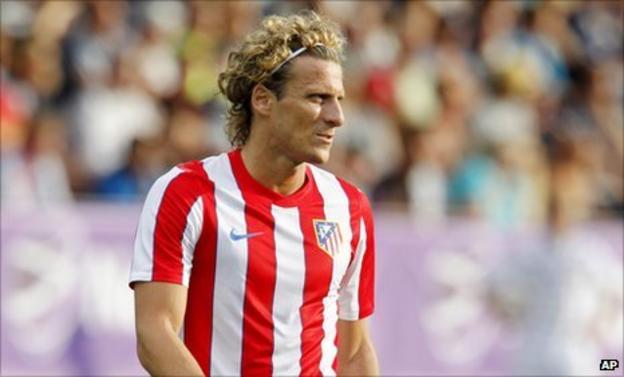 Inter Milan have agreed to sign Uruguay international Diego Forlan from Atletico Madrid.
No financial details were disclosed, but Spanish media reports say Forlan will sign a two-year contract.
The 32-year-old, who is replacing Samuel Eto'o at the Serie A side, said: "Going to a club like Inter is not an opportunity that comes up often.
"I am happy with the decision that I have taken, it is normal that some players come and others go."
Forlan arrived in Milan on Monday evening and was greeted at the airport by a group of fifty Inter fans, who sang "We've come all the way here to see Forlan score."
Cameroon striker Eto'o left Inter last week to join ambitious Russian side Anzhi Makhachkala, and scored on his debut.
Forlan, who scored 96 goals in his four seasons with Atletico, said he would be leaving the Spanish capital with plenty of good memories, adding "I don't regret anything, I would not go back on anything that I have done.
"You learn from your mistakes and you have to accept things as they come. Sometimes they are not as one would like but it was a spectacular period.
"There is a group here that will always stay with me in my heart. It was four years of victories and defeats, what remains are these human relations, which in the end is what matters most in life."
After joining Atletico from Villarreal in 2007, Forlan scored 23 goals in his first season, then 35 goals in 2008/09.
The following year he scored twice in the final against Fulham as the club won the Europa League, and he was also part of the team that beat Inter in the UEFA Super Cup later that year.
Last season was a disappointing one for the striker as he scored 10 goals in 42 appearances as Atletico finished seventh, outside European qualification.
But Forlan scored twice in the 2011 Copa America final against Paraguay as Uruguay won the competition, a year after he won the Golden Ball award for best player at the 2010 World Cup in South Africa, after scoring five goals for Uruguay as they reached the semi-finals.
At a press conference to announce his transfer he added: "I have already spoken with Esteban Cambiasso and Diego Milito, they are my friends.
"I know Serie A having watched many games on television and I am very happy to be playing in Italy after my time in the Premier League, and Liga.
"I am going to play for a great team. I liked the project as well as their will to have me. I have a great will to start and changing [teams] will give me new motivation."
Forlan played for Manchester United between 2002 and 2004, scoring 17 goals in 98 appearances.
Inter Milan have also announced the signing of Italian Under-21 midfielder Andrea Poli from Sampdoria.
Atletico, who sold striker Sergio Aguero to Manchester City last month for a reported fee of £38m, have signed Radamel Falcao from FC Porto for £35.4m.