Alejandro Bedoya relishes debut for Rangers
Last updated on .From the section Football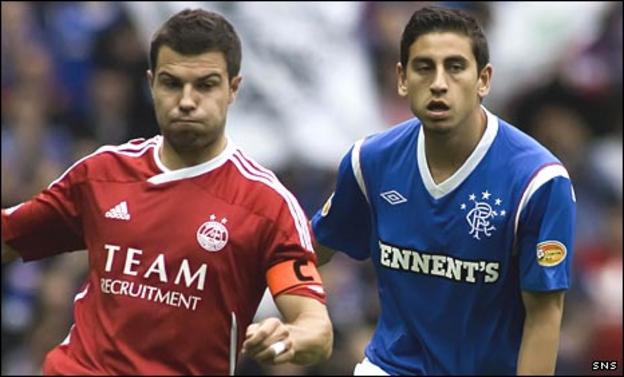 Alejandro Bedoya relished making his debut in a Rangers side that contained two fellow United States internationals.
The midfielder played alongside Maurice Edu and fellow new signing Carlos Bocanegra in Sunday's 2-0 win over Aberdeen at Ibrox.
"It was cool," said Bedoya.
"I don't know if it has ever been done before where three Americans have all played for the same team professionally like this."
Bedoya, whose first appearance was delayed because of work permit and visa requirements after his switch from Swedish club Orebro, came off the bench for the Scottish champions with just over 20 minutes to go.
However, it was not exactly a historic first even in the UK, with Bocanegra himself having played alongside Clint Dempsey and Brian McBride in the same Fulham side.
Nevertheless, after the win that lifted Rangers back to the top of the Scottish Premier League, Bedoya said: "To play at a club like Rangers is a great honour for all of us and I'm just enjoying it.
"I got a couple of balls from Mo and it was just like being in the national team with him."
Following the arrival of Baconegra from St Etienne and Bedoya, chief operating officer Ali Russell said he hoped that Rangers could capitalise by increasing the Glasgow club's popularity in North America.
"The United States national team fans will be trying to stream the games and there is definitely a lot more interest with three of us playing here," agreed Bedoya.
"It's great for us and it's great for a club like Rangers."
Meanwhile, Rangers manager Ally McCoist praised Steven Davis for the way he has taken to the mantle of captain in the absence of injured veteran David Weir.
"I thought it was a captain's performance, I really did," McCoist said of the Northern Ireland midfielder, who himself scored the opening goal.
"I had a wee word with Steven at half-time because I think, the way the game was going, there were a few players looking for a little bit of help and guidance.
"Steven is one of those boys that everybody looks to and I don't think he let anybody down, because he attempted to basically run the game and grab the game by the scruff of the neck.
"The best way to describe it was that I thought it was a Rangers captain's performance, to be honest."
McCoist thought that Davis had shown he could cope with the pressure.
"People might not realise it, but the Old Firm is a difficult place to play," the manager added.
"There are a lot of players who have not been able to play at the Old Firm.
"It takes a special mentality. I would have to say that I think Steven Davis has got it."