Friday decision on Euro future of Celtic and Sion
Last updated on .From the section Football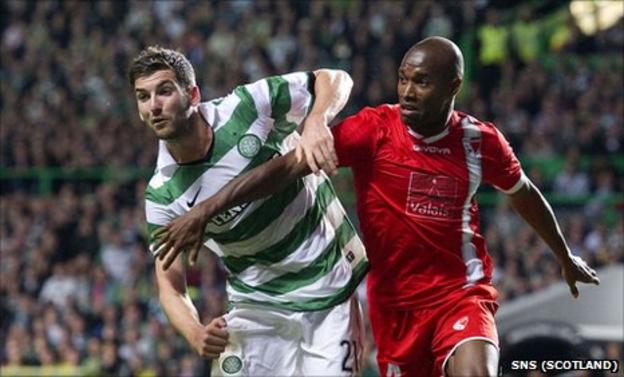 Celtic will learn on Friday if they are to be reinstated into the Europa League at the expense of Sion.
Uefa has confirmed that its control and disciplinary body will meet at 1600 BST to "deal with the two protests lodged by Celtic FC".
Celtic played both legs of their play-off defeat by the Swiss side under protest over their opponents' alleged breach of a transfer embargo.
Sion have been drawn in a group with Atletico Madrid, Udinese and Rennes.
They are due to begin their group campaign against Atletico in Spain on 15 September and Celtic striker Anthony Stokes insists that his team would have no problem taking the place of Sion.
"It is not the most dignified way to go about getting back into Europe," he admitted.
"But if they have signed the players and they are ineligible then I think we deserve to be back in."
"It is a tough group, but we are slowly coming to hit top form, we haven't got there yet, but hopefully in the next few weeks we can get into the swing of things.
"We are just focused on the league because we don't know how long this will take to figure itself out."
But Celtic, who are being given the backing of the Scottish Football Association, may have to wait for any confirmation of their reprieve, with Sion having two rights of appeal.
The Swiss outfit would be able to appeal to European football's governing body within three days of receiving the written explanation of Uefa's decision and could then challenge the ruling in the Lausanne-based Court of Arbitration for Sport.
Sion had signed five players with the club still under a transfer ban imposed by world governing body Fifa after breaching rules over the signing of Egypt goalkeeper Essam El-Hadary three years ago.
One of those, Pascal Feindouno, scored two goals against Celtic.
Sion successfully argued in a Swiss civil court that the embargo had ended, prompting the Swiss football association to allow them to field the players in their league.
However, Uefa president Michel Platini last week offered Celtic genuine hope they could take their place in the group stages by saying that Sion had not respected the rules of the transfer ban.
Uefa general secretary Gianni Infantino added that Sion could be expelled and that the civil court ruling did not affect them.
He explained that there was a dispuate about whether a two transfer-window ban meant two transfer windows or parts of several transfer windows.
CAS general secretary Matthieu Reeb last week said that any hearing could be held before the first group stage tie on 15 September, although Uefa had initially been expected to rule on Tuesday.