Opposition coach's concern for Libya players
By Piers Edwards
BBC Sport
Last updated on .From the section Football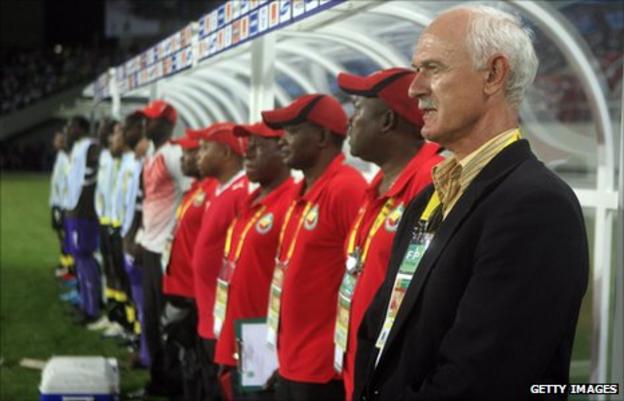 The coach preparing to meet Libya in an Africa Cup of Nations qualifier on Saturday says he hopes none of their players have died during the fighting.
Libya play Mozambique in a 'home' match relocated to Cairo because of the civil unrest across the North African nation.
"I have a DVD of our home match against them and I hope we will recognise some of their players," says Mart Nooij.
"Because then the guys are alive - we don't know from the outside world who is dead or alive over there."
The teams last met in September 2010 when the Mozambicans were held to a goalless draw by Libya in the opening round of Group C matches.
The Confederation of African Football (Caf) says that Libya's federation originally sought a postponement of the game, saying it could not arrange for players to travel from Tripoli.
But Caf turned down the request because of the lack of an alternative Fifa date on which to play the qualifiers before the final round of matches on 07-09 October.
The Libyan capital has experienced some of the worst violence in recent weeks as the uprising against Col Muammar Gaddafi's 42-year rule finally reached the city.
Since NATO imposed flight restrictions on Libya earlier this year, its football teams have had to travel by road from Tripoli to Tunisia before flying onwards.
Players from across the country competed in March's clash in neutral Bamako against Comoros, which Libya won 3-0.
Just three months later, the fall of Benghazi to rebel forces meant that the team that travelled to Comoros for the return leg consisted of players still based in Tripoli.
With the possibility that players based in Benghazi, which is closer to Egypt, will be used for the match, Dutchman Nooij admits he is preparing his team with no knowledge of Libya's starting XI.
And it is still unclear whether Libya's Brazilian coach Marco Paqueta will be taking charge of the game.
"It's difficult because the opponent has a lot of problems," Nooij explained.
"I know there's a revolution and a war inside the country but I don't know what exactly is happening there - I'm a foreigner.
"We are simply training to prepare ourselves for this match."
Caf has decided that Saturday's match in the Egyptian capital will be played behind closed doors for security reasons.
Despite the troubles, Libya trail Group C leaders Zambia by just a point and can still qualify for next January's finals in Equatorial Guinea and Gabon.