Transfer deadline quotes of the day
Last updated on .From the section Football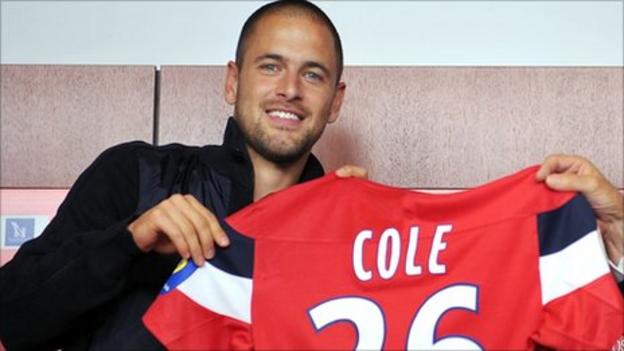 A round-up of some of the best quotes from those involved in the transfer deadline day action.
"I always wanted to go to play abroad. I love football, I love watching it, I love talking about it." Joe Cole after his move from Liverpool to Lille.
"He's a good character, a fantastic person, a proper family man, a real good pro. He'll be great around the place for us." Tottenham manager Harry Redknapp is pleased to have secured the signature of West Ham midfielder Scott Parker.
"Owen Hargreaves won't appear at Etihad Stadium on Wednesday night - still some paperwork to do from the comfort of his own home. He's expected to train with the Manchester City squad for the first time on Thursday." BBC Sport reporter Juliette Ferrington on Twitter.
"It is with a heavy heart that I have asked to leave Leeds United. It was a difficult decision for me as Leeds has been a wonderful place to live and to play football. However, I made the decision based on my career development, and the opportunity to play at the highest level in France is too big an opportunity to turn down." Ivory Coast international Max Gradel on his move from Leeds to St Etienne.
"The player [Gradel] submitted a transfer request earlier on Tuesday stating his desire to secure a move to his 'native' France and play at the highest level for his career development." Leeds are less than impressed with Gradel's departure.
"Mikel Arteta's been on the bench because of Ross Barkley. He's young, but he'll be one of the best players of the game we'll ever see in this country." Former Arsenal and England defender Martin Keown praises Everton's 17-year-old midfielder on Football Focus Special.
"Mikel indicated to me that he wished to join Arsenal if a bid came in. I am very disappointed to lose him but the prospect of Champions League football was something I wasn't able to offer him." Everton boss David Moyes bemoans the loss of his star Spaniard.
"I signed for Shamrock Rovers and won the league in my first season and we have qualified for the Europa League group stages. The Villa manager will be able to come and see me against top-class sides and players across the continent. It's all coming into place." Aston Villa signing Enda Stevens, who will join-up with Villa in January after playing in Europe with Shamrock.
"The January I moved from Birmingham to Blackburn, I sat there by the phone for 13 days, worrying, waiting for it to go through - I lost a stone." Former Premier League midfielder Robbie Savage discusses the stresses of the transfer window on Football Focus Special.
"Tough night for Everton fans. A small squad seems to be getting smaller. Exciting times for QPR, Stoke and Arsenal." Manchester United striker Michael Owen on Twitter.
"I am absolutely washed out. I've been on the road at 5am every morning and it's a waste of time going to bed." The transfer window takes its toll on Harry Redknapp as he leaves the Spurs training ground on Wednesday evening.
"Phew. Zzzzzzzzzzzzzzzz." Bolton chairman Phil Gartside (after keeping hold of Gary Cahill while signing David Ngog and Gael Kakuta) on Twitter.
"Nice to see Mike Ashley and Derek Llambias come through with their promise to reinvest Andy Carroll money, £59m net profit from transfers in last 5 seasons... ambition???" QPR's former Newcastle midfielder Joey Barton on Twitter.
"In the end it was an easy decision to make. I'm looking to seeing my old mate Joey Barton, it should be a good laugh. The Manchester City fans have supported me for 10 years of my life. Neil Warnock has just told me to be energetic and create goals." Shaun Wright-Phillips explains why he is looking forward to playing for QPR.