Craig Bellamy: Cardiff City reveal late bid for player
Last updated on .From the section Football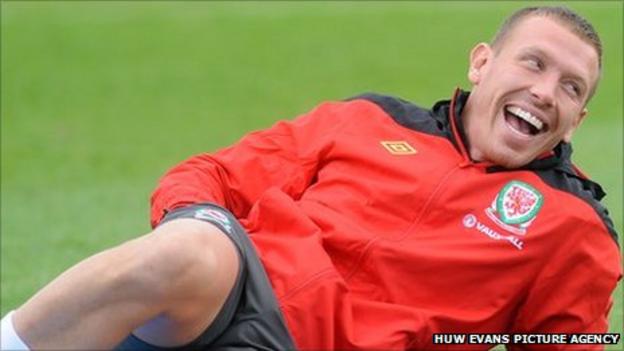 Cardiff City boss Malky Mackay has revealed he failed in a late bid to bring Craig Bellamy back to the club.
Liverpool signed the Wales international from Manchester City before Wednesday's transfer deadline.
But Mackay believes Bellamy can be forgiven for returning to Anfield, saying: "You're talking about Liverpool, which is a huge club."
QPR manager Neil Warnock also tried to recruit the striker, who played on loan for Cardiff last season.
Mackay admitted he had spoken to his former Norwich team-mate leading up to the transfer deadline.
"He's someone I've spoken to three or four times since I've taken the job, in a friendly capacity," said Mackay.
"Really until Manchester City decided what they were going to do, I think there was nothing I could have done.
"Certainly we looked at something and put a proposition when we found out it was an opportunity that he'd be leaving.
"But at the end of the day you're talking about Liverpool, which is a huge club.
"But our chairman [Dato Chan Tien Ghee] really showed ambition yesterday [Wednesday] and we'd made tentative calls, but by that point it was so far down the road with Liverpool."
Bellamy returned to Roberto Mancini's squad ahead of the current season after the Bluebirds failed to win promotion to the Premier League in 2010-11.
The 32-year-old was one of 12 players who left Cardiff City in the wake of that disappointment, which also led to Mackay succeeding Dave Jones as manager.
Bellamy left Wales' training camp at Celtic Manor to head off for talks with the Reds and then signed for his former club.
Liverpool say Bellamy will wear the number 39 shirt.
The Wales international left Anfield in 2007 after only 12 months at the club having scored nine goals in 42 matches.
But Bellamy has been out of favour at City since Mancini took over in December 2009.