Jo Kuffour will leave Bristol Rovers - boss Paul Buckle
Last updated on .From the section Football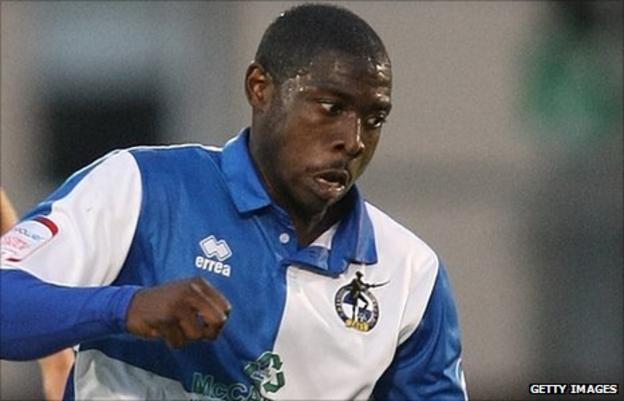 Bristol Rovers manager Paul Buckle has confirmed the club will send want-away striker Jo Kuffour out on loan.
Kuffour, 29, has expressed his desire to move closer to London but Rovers were unable to complete a permanent move before the transfer window closed.
"He's definitely in the departure lounge," Buckle told BBC Radio Bristol.
"It will have to be a loan now the window has closed, we were confident he would go yesterday but sometimes players are not willing to compromise."
He added: "It's a very small market for Kuffour as he wants to go back to London. We've had interest from League One clubs around the country but he's not interested."
The forward, who has scored one goal in six games this season, is believed to have attracted interest from Northampton Town on Wednesday but nothing came of the deal.
"I was hoping Jo would go yesterday [Wednesday] because he wants to leave the club and when a player expresses a wish to leave then the quicker you can do it the better," continued Buckle.
"I won't mince my words - if players don't want to play for the club they've got to go and I won't tip-toe around it."
Kuffour started his career as trainee at Arsenal before spells at Torquay, Brentford and Bournemouth.
He joined Rovers in 2008 and has since scored 35 goals in 139 appearances.
"Jo is someone who, if he's in the building, you're always tempted to play him," added Buckle.
"But if you look at his goal record over the past few months it's not great. I've played Jo and I've played [Chris] Zebroski and Zebs has taken his opportunities up front.
"As long as he gets his head down in training and pulls his weight, I won't have any problems."