Exceptional Barry and Parker were England's real stars
By Danny Mills
Former England defender
Last updated on .From the section Football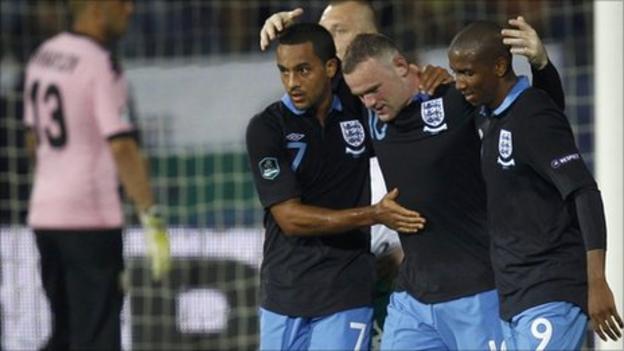 England were by no means spectacular against Bulgaria but it was a very professional away performance.
I thought Gareth Barry and Scott Parker were exceptional in front of the back four. They protected their defenders all night long and did an absolute sterling job and that's a really big plus point for England.
The pace of Theo Walcott, Ashley Young and Wayne Rooney on the counter attack also pleased me.
Young was very unselfish. He could have gone for goal himself when Rooney got his second, but Young looked up and saw his Manchester United team-mate unmarked at the far post and Rooney had a tap in.
For me, Young's strongest position is when he gets the ball and is able to run at people from deeper positions. Giving him that freedom on the left would be a better position for him.
I also think that throughout the night England looked far more dangerous when Rooney dropped into the hole rather than playing as the last man.
All of England's good play, based around Rooney, was when he dropped deep and was able to turn and look for the runs of Walcott, Young or Stewart Downing at times. That was key.
That is Rooney's best position on the pitch - you want your best players involved in the game and on the ball as often as possible, and I think to do that you have to allow Rooney to come a fraction deeper.
As for Chris Smalling on his international debut, in the first half I think he looked a little bit nervous.
There were a couple of touches he had where he was unlucky, and there were a couple of tackles that bounced back off him and ran out of play.
In the first half he got caught out once, which could have been trouble for England, but I think Martin Petrov didn't expect him to miss the ball either and he scuffed his cross come shot and nothing came of it.
In the second half Smalling wasn't really tested at all. Overall, you could expect a performance like that - a first half with a few nerves, and the second half he carried on well.
He made a very good tackle right near the end of the game in the penalty area which will do his confidence the world of good, and surely now he will look forward to the Wales game on Tuesday.
Being more occupied against Wales winger Gareth Bale might actually be helpful to him.
Danny Mills was speaking on BBC Radio 5 live.