Wales belief flowing for England clash says Aaron Ramsey
Last updated on .From the section Football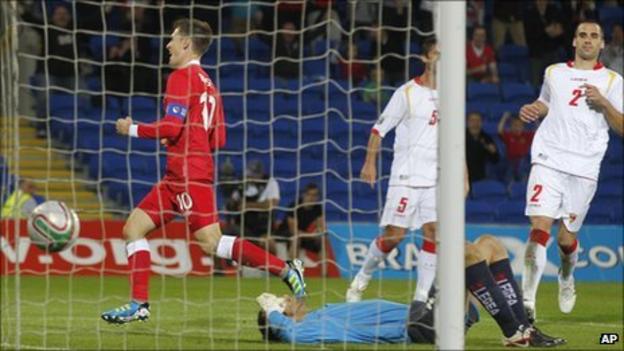 Wales captain Aaron Ramsey says their 2-1 win over Montenegro sets them up nicely for Tuesday's England clash.
The Arsenal midfielder doubled Wales' lead at the Cardiff City Stadium after Steve Morison had given them the lead with his first international goal.
The Group G win at the Cardiff City Stadium earned Wales' first points in their Euro 2012 qualifying campaign.
"It was a really good result for us, we can take a lot of belief from this and it's what we needed," Ramsey said.
"We showed what we can do with the players that we have and we created plenty of opportunities.
"From this now we can take a lot of heart into the England game."
Ramsey struck five minutes after half-time, when man-of-the-match Gareth Bale went clear down the right and pulled the ball back for his skipper to side-foot past Montenegro goalkeeper Mladen Bozovic.
"It's always nice to score a goal but it was more important to get the win and we did that, and I'm just happy personally and for the team," Ramsey added.
"We haven't been used to being in that position [to win a match] for a while and when they got the goal the nerves started to kick in.
"But I thought we coped really well; they were pressing us and going long and we dealt with it well.
"So we can take a lot of pride from the way we defended as well... we can fight as well."
Wales manager Gary Speed said the victory, his first qualifying win since taking over, was a just reward for the time that had been put in on the training ground.
"It's very pleasing, we've done a lot of work over the last six months trying to develop the squad and develop the playing style," Speed said.
"Sometimes you forfeit the result to try and put into the players' minds what we want.
"If we want to be successful we've got to do something special and sometimes you have to take a step back to take two steps forward.
"So I'm glad the players have got a reward for all the hard work in the last six months."
Despite the set-back in Cardiff, Montenegro coach Zlatko Kranjcar is not conceding defeat in the race to top the group.
"Defeats are part of the game, we knew it would come but we still have two games to play and if we have a full team we still have a chance of winning those two games," Kranjcar said.
"England, even before the group started, were the clear favourites and now they are in a good position, but remember their last game is in Podgorica and if we're prepared we could be in a position to fight back for first place.
"We won't surrender. England will not scare our players, we will be ready for them."